SS vs Kookaburra Cricket Bat
A low-end bat against a high-end bat.
A. SS Blaster Exclusive Edition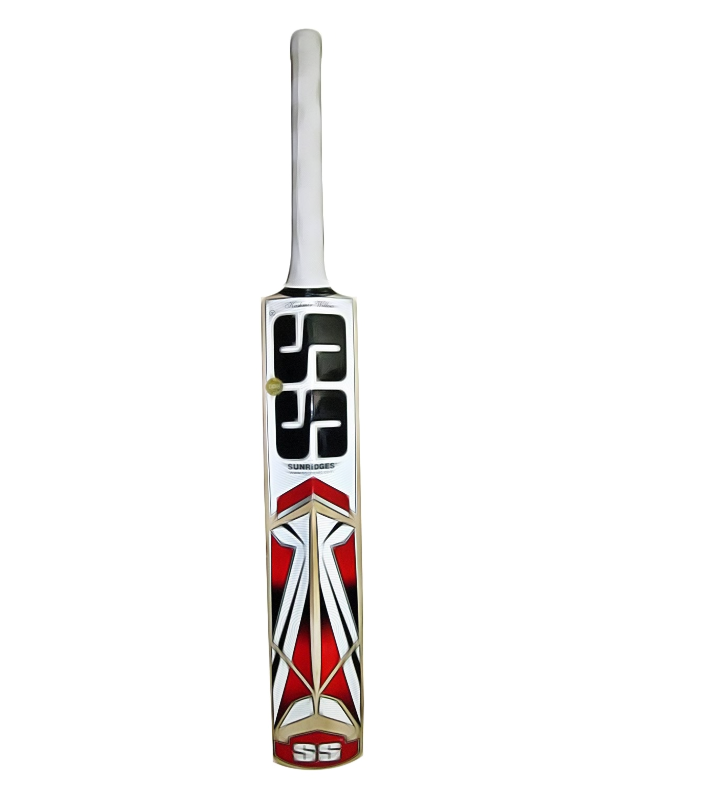 Price
At ₹ 1,600, this bat is one of the cheapest in SS' inventory. It is part of the SS Range type of bats, meaning that these bats are inexpensive and usually cater to beginners or casual players of the sport. Its price makes it easily replaceable if damaged and fairly easy to obtain. Often, discounts are also applied to the bat, making it even more affordable.
Materials
The bat is made of 5th Grade Kashmir willow. It is on the low-end of the wood scale for cricket bats, but it often comes in six to eight grains making it fairly reliable. The sticker on the back is part embossed, meaning that you can feel some parts of the sticker.
The grip is wrapped in a generic type of rubber which could make the bat a little difficult to grip with sweaty hands. The handle itself is often made of different types of wood and does not come with a cork centre. You may find it weird to use since vibrations caused by batting are transferred to your hand instead of being absorbed by the handle.
Measurements
With a 35mm edge and a 61mm spine, the blade is one of the low-end bats that are designed for power. The swell is located around the centre emphasizing precise hits from medium-paced bowlers.
The bat also boasts a shorter handle at 292mm while the blade is 558mm, longer than most bats. This is to maximize the area of contact a ball can make with the bat. It is also very, very light, weighing only 0.95kg.
Handling
The bat is fairly easy to pick up and handle mainly because the swell is in the centre. It helps distribute the weight across the entire blade, and since the bat is very light, it takes little effort to swing.
Availability
Because the bat is sold at an affordable price, getting your hands on one isn't that difficult. It is readily available in-stores, while online shopping websites seem to never run out of bats to sell.
Popularity
The bat is not really used in professional games seeing as the materials are cheap. However, some of the most skilled players and former greats use/used SS branded bats throughout their career. Players such as Sourav Ganguly, Virender Sehwag, Sachin Tendulkar, MS Dhoni, and Virat Kohli made use of SS bats during their games.
Cons
Since these bats are not necessarily of high quality, knocking in should be done prior to using it. These specific bats require more time for knocking in than usual. Even then, the chances of the bat breaking are high.
You should also be careful when ordering the bat online. Other sellers of this particular type of bat will say that it is made with Kashmir willow even though it isn't. The handle can also be a problem for some since it is thinner, so gripping it properly may be a problem. Using a second grip-sleeve is advised.

B. Kookaburra Ghost 300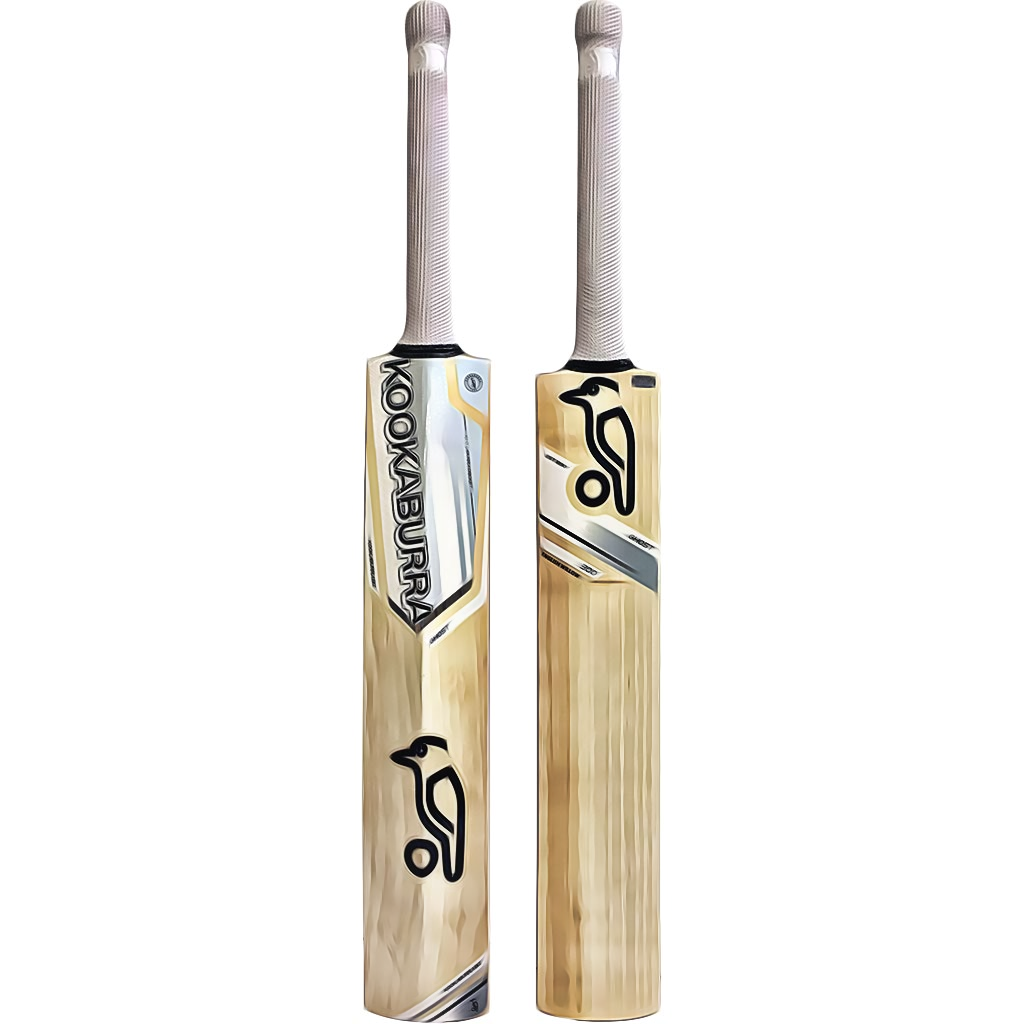 Price
The Kookaburra Ghost 300 costs around ₹ 11,199. Not bad for a mid-tier bat.
Materials
The bat is created with unbleached, Grade 2 English willow and has around six to nine clear grains. The handle is oval-shaped, giving you a firmer grasp on the handle. It is made of a 12-piece Sarawak Cane which gives a "softer" grip. It is also wrapped in 'Octopus Grip' allowing you to have a hold of the bat no matter the speed and strength of your swing.
Measurements
Kookaburra bats are short handle bats, and the Ghost is no exception to this rule. The handle measures around 284mm, allowing for great control of swings. The blade is 610mm long, maximizing striking probability. The entire bat measures 894mm, one of the shortest bats available in the market.
Handling
The bat's short handle and excellent profiling make it look heavier than it really is - it only weighs around 1.19kg to 1.2kg. The swell of the blade is located near the centre emphasizing powerful strikes. It also helps in the distribution of the weight across the bat.
The bat is full-profiled, there is very little concaving. This means that you do not need to hit the ball as hard compared to other bats.
Availability
The bat is mostly available in online shopping websites since the main production facility is located in Australia. It is also sold in stores but the amount is far less than those sold online.
Popularity
Despite the bat not being readily available, there are numerous professional players who use the Kookaburra Ghost. Some of these players are Nathan Lyon of Australia, Liam Dawson of England, and Chris Morris of South Africa.
Cons
The bat, for its price, is made of a fairly good grade of willow. However, this means that the bats need to be knocked-in before use. This process takes longer for this bat, which isn't really a negative aspect, but seeing as that you would want to use the bat immediately and start playing, it might as well be considered as one.

C. Final Comparison
Some would say that comparing a high-end and low-end cricket bat is unfair. However, both have an advantage over the other. For example, opting for a cheaper bat will cost you less if and when you eventually replace it (that is if you go for the same bat). On the other hand, opting for the more expensive bat could take you years before replacing it even crosses your mind.
However, it is worth mentioning that regardless of which bat you end up buying, how you care for it will ultimately be the deciding factor on how long the bat will last.