Klapp vs Wasan Cricket Complete Set
Two different cricket sets. One is used for practise games, while the other one is used only for casual games.
A. Klapp Practice Cricket Kit with 4 Wooden Wicket Set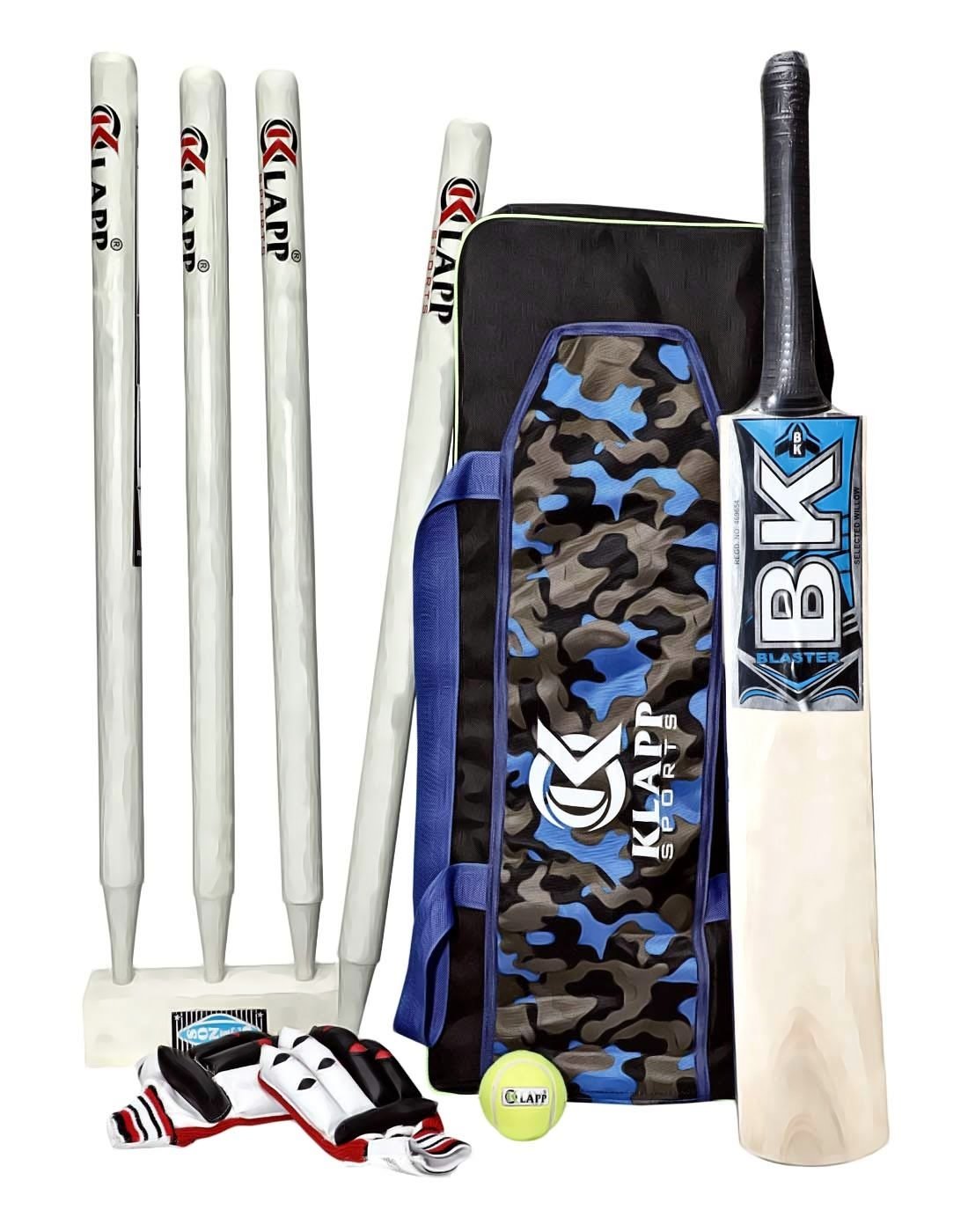 Price
This product offers two types of cricket bats so the price varies. The first cricket set has a Kashmir Willow bat which costs ₹ 3,499.00. The other set costs ₹ 2,399.00 and it has a Popular Willow bat.
Quality
The Klapp Practice Cricket Kit comes with a bag that stores all of the items provide. The space it offers is solely for the items in the kit, nothing else. It has a bat compartment to keep your cricket bat. You can carry the bag by hand or shoulder. Below are the items that this set has:
1 Cricket Bat
1 Wicket Set (4 wooden stumps with bails)
1 Pair of Batting Gloves
1 Tennis Ball
1 Cricket Bag
The cricket bat is made of either Kashmir or Popular willow but they both guarantees you powerful hits and knocks. Both bats are designed with the brand's sticker which perfectly adds style to the bat.
A cricket glove is provided to have an enhanced grip of the bat. It is made of good quality materials such as cotton and PVC to give you comfort and protection. Your fingers are fully protected by the finger rolls that have a foam padding inside.
Since this cricket set is only used for practise matches, a tennis ball is included so you can use it for bowling. This type of ball is suitable for the wickets in this set. The wickets include two stumps, three stumps and one extra stump.
Availability
This product is sold on online shopping websites. It comes in various sizes for different age groups. However, the stocks for this product may depend on the site where you will buy so always check if they have this product.
Intended Users
This cricket complete set is used by junior and professional cricketers. Despite it is used for practise matches, it doesn't restrict you from using it in other games such as semi-professional games.
B. Wasan Cricket Set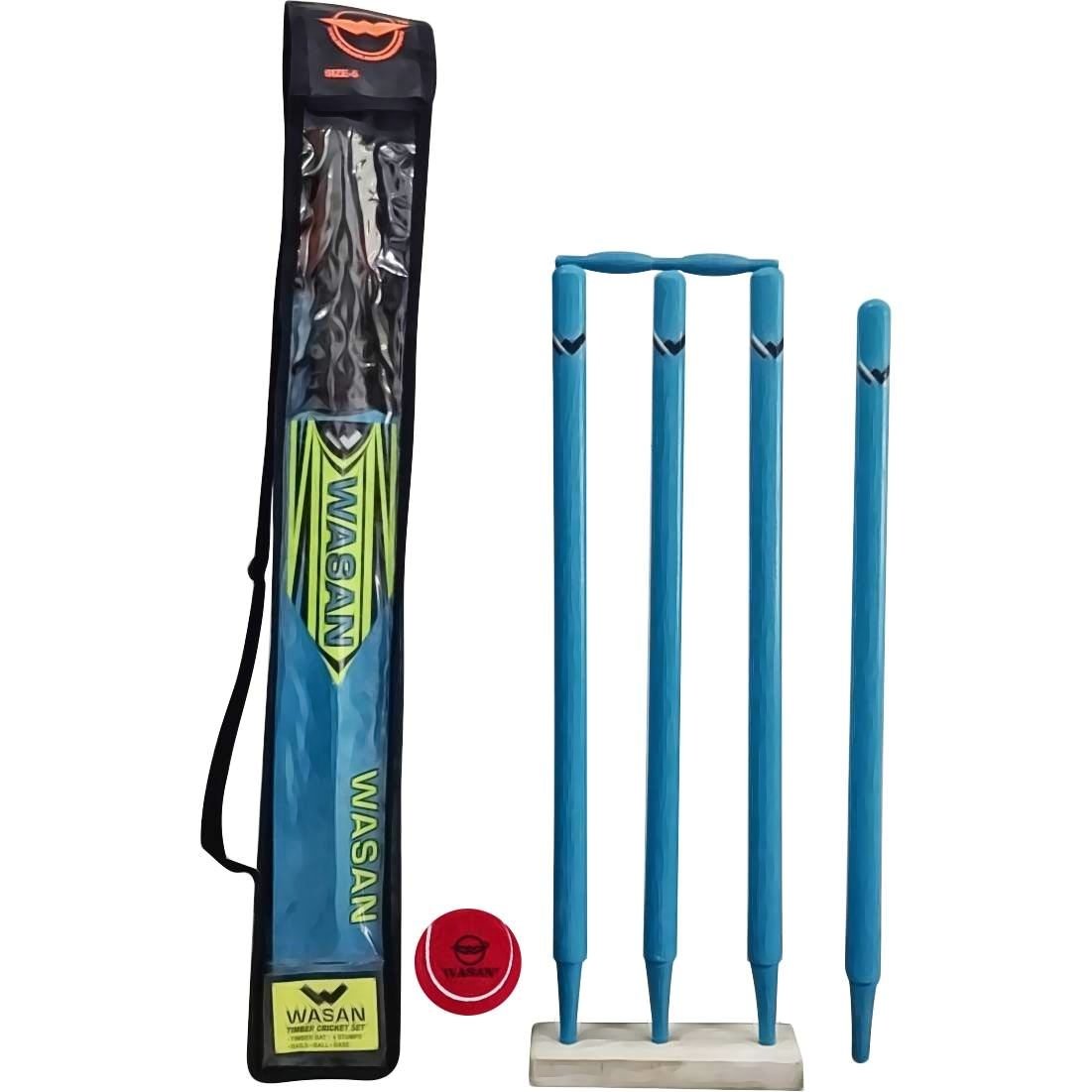 Price
Wasan Cricket Set only costs ₹ 829.00 which is very affordable for buyers who want to play cricket for fun. With all the items provided in the set, it is only suitable to use for casual games or practise games.
Quality
The cricket set is very easy to transport because it has fewer materials. They are built with good quality materials which will guarantee you almost the same feeling when playing the sport. The first vital material in this set is the cricket bat. It is made of unspecified type of willow but it has the correct measurements that a cricket bat should have.
Second, the wickets are one of the most important items in the set because they are used to dismiss a batsman. The product's wickets are entirely made of wood. A base is provided for easy assembling of the stumps. However, the base's width can cause a bit of hassle because it is short. This can cause the stumps to fall down easily even it is not struck by the ball.
A tennis ball is included in this set since it is only designed for casual games. It is made of felt and ideal for bowling on concrete surfaces. Despite this ball is provided in the set, it is advisable to be careful when bowling because fast balls can damage the stumps.
Availability
This cricket set is available in a lot of online stores and shopping sites. It also comes in different style and colours that you can choose from. The price and shipping fee may vary depending on the site.
Intended Users
Wasan Cricket Set is ideal for ages 10-16, but it can also be used by adults. Hence, this item is family-friendly. You can use this item in parks, fields and school. Proper care is required for this product so that it will last for a long time.
C. Overall Comparison
The similarity with these two cricket complete sets is that they're ideal to be used by multiple players and they have different sizes and styles to choose from. To be fair, they have their own purpose. Klapp cricket set is used in practice matches while Wasan is only for casual games. The preference comes down to you if what kind of match you're going to play.