SG vs Klapp Cricket Complete Set
Both cricket complete sets have all of the equipment. One is only for club and professional matches, while the other is available for different group ages.
A. SG 7PCS CRKT Cricket Complete Set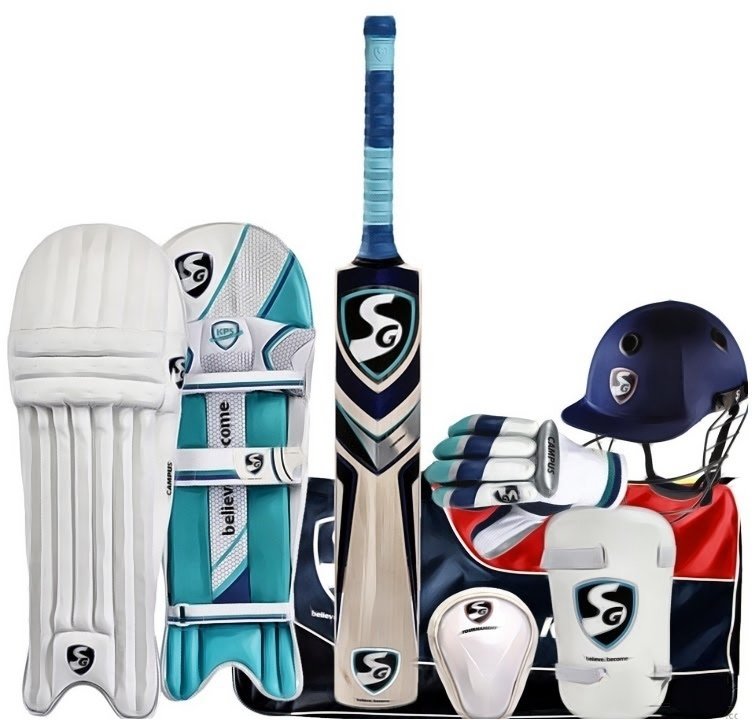 Price
The SG 7PCS CRKT Cricket Complete Set costs ₹ 5,999.00. It sounds cheap for a set to have that price but is a great value for your budget. The set provides everything you need for the sport, from equipment to protective gears. Every piece of this cricket complete set is made of quality materials.
Quality
The SG cricket complete set includes the following durable items:
1 Cricket Bag
1 Cricket Bat
1 Cricket Helmet
1 Pair of Batting Pads
1 Pair of Thigh Pads
1 Pair of Batting Gloves
1 Abdominal Guard
The cricket bag is a hand-carry type. It has a stylish design with colours that perfectly suit each other. It has enough capacity to accommodate all the items mentioned aside from the bag. You can only store your equipment and protective gear but not your other valuables since the bag doesn't have many extra pockets.
The SG cricket bat is ideal for slow-to-medium pace bowling. It can guarantee you strong hits that can score a boundary. Its weight is balanced which doesn't affect when carrying the cricket bag. With the help of the SG Campus batting gloves in the set, you can grip the bat firmly. It is made of high-quality PVC and cotton. The gloves have different key features such as the finger rolls that provide extra protection for your fingers and the cotton wristband that absorbs sweat.
The cricket helmet provides maximum protection for your head and face. You can adjust it for the fit of your head. When you're playing during hot conditions, it allows free airflow because of its netted vents.
The protective gear of the set is made of good quality materials that guarantee 100% protection. At the end of the match, you will walk back in the dressing room scratch-free and injury-free.
Availability
This cricket set is available in different online shopping websites. You can also purchase it from SG's online store.
Intended Users
The cricket set is ideal for junior and senior cricketers alike. Every item is heavy-duty so it is only suitable for club and professional cricket matches. Players who will use this set can feel comfort and protection with the protective gears. It can also enhance a high-level performance with the help of the cricket bat from the set.

B. Klapp Champion Cricket Kit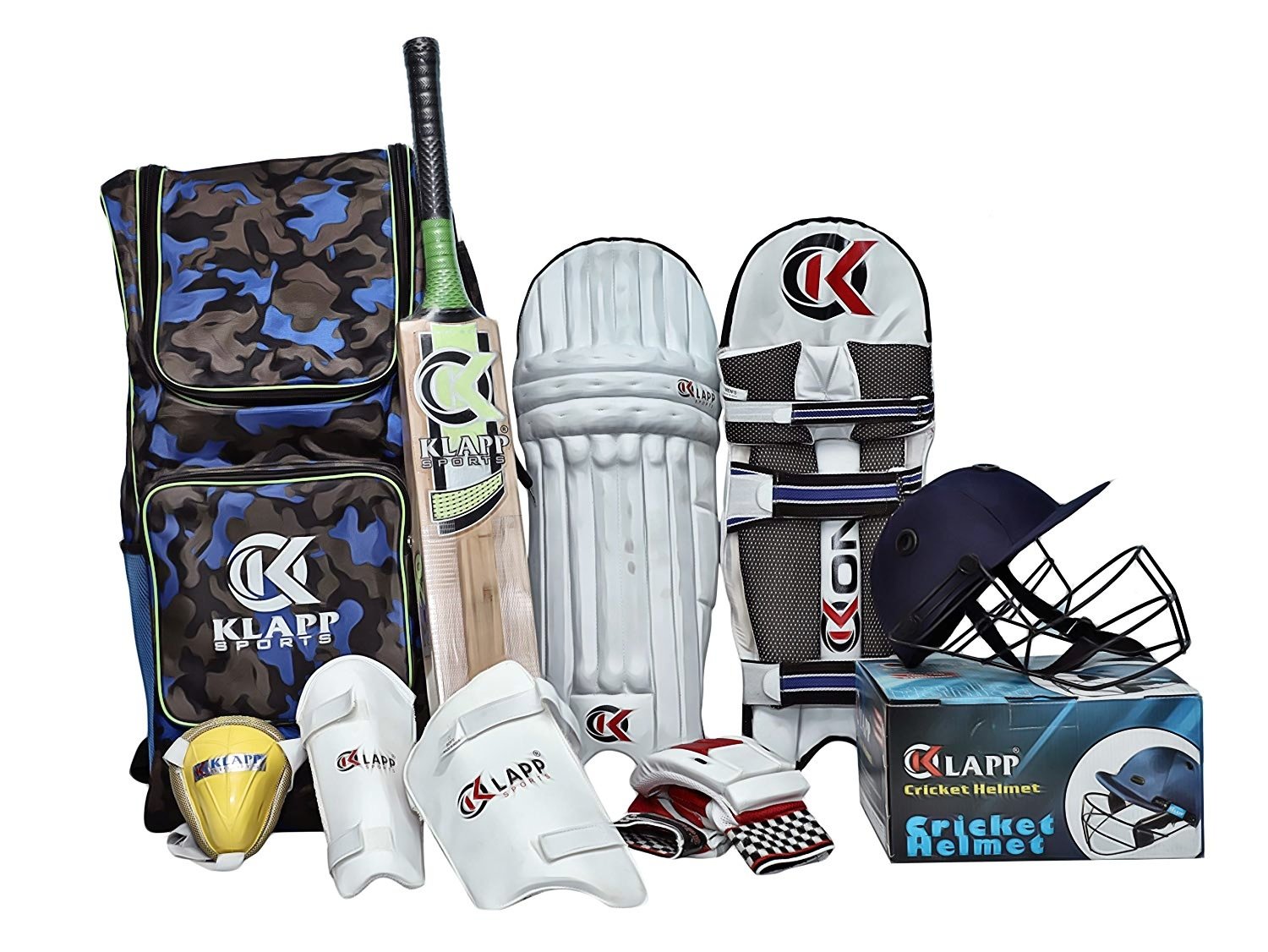 Price
The Klapp Champion Cricket Kit costs ₹ 2,999.00. It has all the equipment and protective gear that a cricketer needs in the match. Each item is made high-quality materials which makes it long-lasting.
Quality
The Klapp Champion Cricket Kit has the following materials:
1 Pc. Kashmir Willow Cricket Bat
1 Cricket Helmet (Multi-Colour)
1 Pair Batting Gloves
1 Abdominal Guard
1 Arm Guard
1 Thigh Pad
1 Pair Pad
1 Kit Bag
The cricket bag is a backpack-type made of matte material. It has a big compartment with a bat pocket. The bag also has four extra pockets to store your other valuables. Klapp Kashmir Willow Cricket Bat is one of the top items in this cricket set. You can do powerful swings and knocks with this cricket bat.
The batting gloves from the set help you have a controlled grip of the bat. It has PVC finger rolls for maximum protection. The gloves' palm is made of cotton and PVC which provides comfort and safety from injuries.
Arm guards are padded with foam which makes it lightweight. It has an elastic hook and loop strap that you can adjust and helps you save time when you're wearing it at the dressing room. The thigh pads provide a combination of comfort and protection for your shin. The facing of the thigh guard is made of PVC.
The Klapp cricket helmet is made of impact-resistant polypropylene shell. It is sweat absorbent and keeps your head cool through its air holes for ventilation. Your face is fully protected with its adjustable steel grill. It also has a visor and ear guards for extended protection.
Availability
Klapp Champion Cricket Kit is available in various online shopping websites. However, Klapp doesn't have its own online store so you can only purchase this set in other online shops.
Intended Users
The Klapp Cricket Set comes in various sizes for different age groups which makes it fit for club, junior and professional cricket matches. It can be also used for casual games if you want to play outdoors or in a field nearby.
C. Overall Comparison
The SG Cricket Complete Set is the one that wins in terms of design and quality. It is a widely used brand known for its long-lasting cricket equipment. SG cricket set can only be used for junior and professional matches. However, if you want to play cricket for fun, Klapp cricket set is the one for you since it comes in different sizes.