SG vs Sunley Cricket Complete Sets
The first cricket set is complete, from bat to protective gear. The second one is only used for fun and recreational use.
A. SG 7PCS CRKT Cricket Complete Set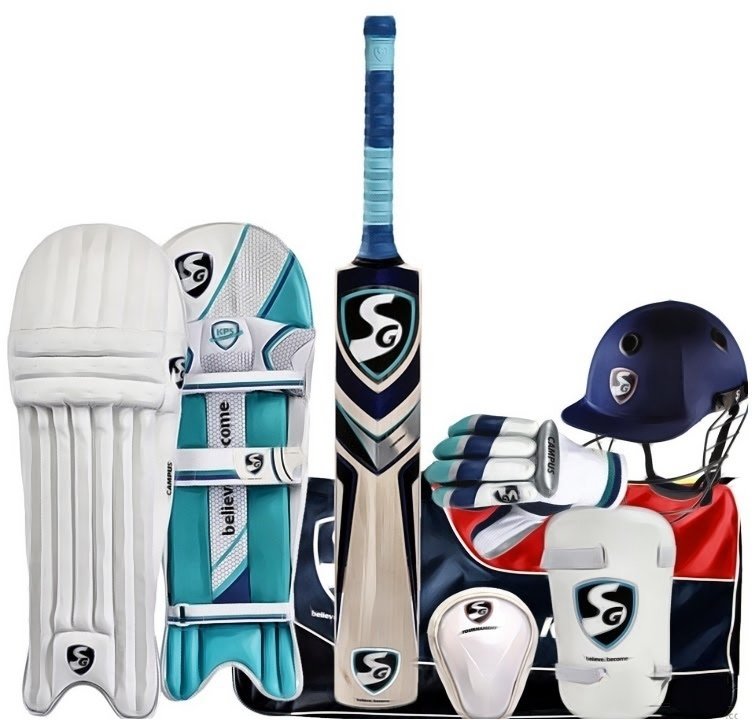 Price
This cricket complete set costs ₹ 5,999.00. It is a bit costly but every single penny is valuable for this cricket set because it provides everything you need, from cricket bat to protective gears.
Quality
Every item of this cricket complete set is made of high-quality materials to give long-lasting usability to the player who uses it. The following items are the items included in the set:
1 Cricket Bag
1 Cricket Bat
1 Cricket Helmet
1 Pair of Batting Pads
1 Pair of Thigh Pads
1 Pair of Batting Gloves
1 Abdominal Guard
The cricket bat is made of Grade 1 English willow. This type of wood ensures a powerful knock especially when the ball is hit by its sweet spot. The handle is made of an unspecified type of wood but it gives you an enhanced grip when batting. The length of the bat measures 876 mm long.
For a firmer grip of the bat, the cricket glove is given in the set. It is made of PVC and cotton that ensures a combined comfort and protection to your hands.
The cricket helmet is made of materials that are impact-resistant. This means your head is a hundred per cent protected from getting a concussion. Aside from protection, the helmet guarantees comfort and breathability. The inner part of the helmet is made of foam. Ventilation holes are provided on the shell to allow the air flow.
The protective gear shields you from any injuries that you may sustain during the match. They are heavy-duty and durable which guarantees extended usability.
Availability
This cricket set is one of SG's best sellers. It is sold in a lot of online stores. You may also find it in SG's online store. If this cricket set is your choice, reserve it immediately and place your order before the stocks run out.
Intended Users
This cricket set is suitable for youth and adult cricketers. It comes in other sizes that you can choose from. The advantage that this product offers is that you can have a high-level performance that can help you score good numbers.
B. Sunley Plastic Cricket Kit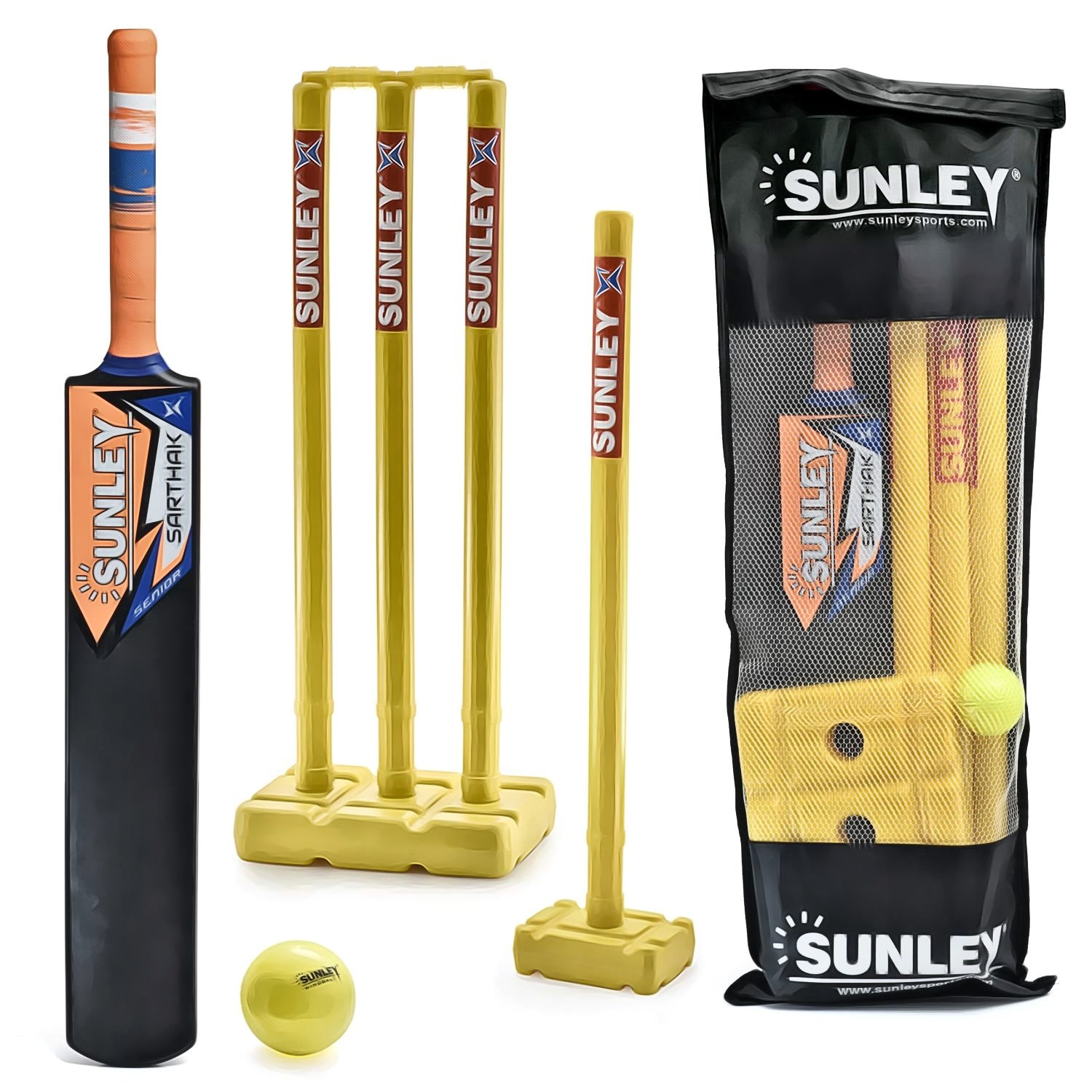 Price
Since this product is entirely made of plastic, it only costs a cheap price of ₹ 1,499.00. The Sunley cricket kit is only used for casual and recreational games played with friends and family.
Quality
This cricket set has the following items:
1 Piece Plastic Cricket Bat
4 Piece Plastic Wickets Length
2 Piece Plastic Base
2 Piece Plastic Bails
1 Piece Wind Ball
1 Piece Cricket Kit Combo Bag
All of the items are perfectly lightweight which makes them easy to carry in the combo bag. The cricket bat is made of PVC plastic, meaning it is durable and doesn't go out of shape when batting. Just make sure that you don't bat with too much force. The bat is 34 inches long while the handle is 11 inches long. It has the average measurement of the cricket bat used in the sport.
A wind ball is provided in the set. It is the type of ball allowed to be used with the bat. If you use a tennis ball or an authentic cricket ball, this can ruin the bat. The wicket set is consist of four stumps, two bails and a plastic base. An extra stump is included so that you can use it as a replacement if one of the stumps is missing or broken.
Availability
A lot of buyers, mostly families, buy this cricket set for recreational use. It is mostly used in backyards, beaches or neighbouring fields. You can find this product in a lot of online stores. Price and shipping fee may vary.
Intended Users
As mentioned, Sunley Plastic Cricket Kit is ideal for casual games or recreational games played with family or friends. Since it is only made of plastic, there are fewer chances of getting hurt once you're struck by the ball by accident.
C. Overall Comparison
SG cricket set is mainly used for authentic cricket matches since the materials provided are used by junior or senior cricketers. With the protective gear provided in the set, it is obviously implied that it is used for cricket competitions. The Sunley plastic cricket set is only suitable for casual games since the items are made of light materials.