Wasan vs SS Cricket Complete Sets
Two cricket sets designed for youth players and differs in the items provided.
A. Wasan Cricket Set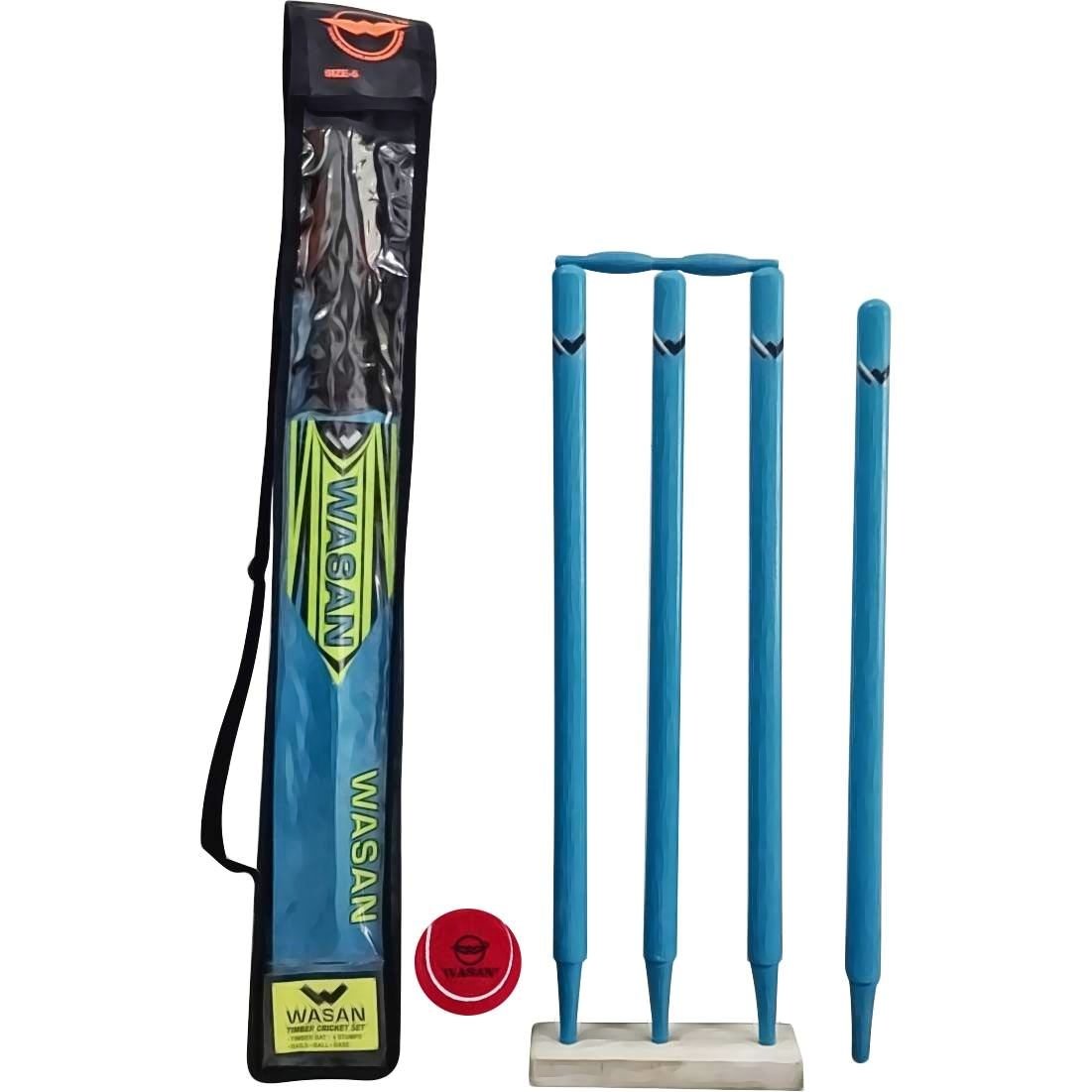 Price
This cricket set is sold at a very affordable price of ₹ 829.00. It is designed for youth who play casual games or practice games. With all of the materials in the set, it can guarantee you fun gameplay.
Quality
The cricket set is one of Wasan's bestsellers. It has a fairly average quality that gives you an almost authentic cricket experience. The Wasan cricket set is provided with the following items:
1 cricket bat
1 felt cricket ball
1 wooden base
4 wooden stumps
1 bag
The cricket bat is made of willow and has an average measurement. Its handle is made of good quality cane wood. The bat is painted blue and designed with the brand's sticker. Since this cricket set is ideal for youth players who play in non-professional cricket games, a red tennis ball is provided. This makes it safe to use and lessens the risk of sustaining injuries.
The wicket set has four stumps and two bails. All of them were painted blue. With the tennis ball being used for the game, it has less chance of getting damaged or broken by the ball's impact. However, the stumps may fall down easily due to the base's short width.
Availability
The Wasan Cricket Set is sold in various online stores. The price and shipping fee may vary. You can choose from the different styles and colours they offer. It is advisable to reserve one easily before the item's stocks ran out.
Intended Users
Again, this cricket set is suitable for the youth age group, specifically for ages 10 to 16. It can only be used in casual games played in school or outdoors for fun.
B. SS Kashmir Willow Cricket Full Kit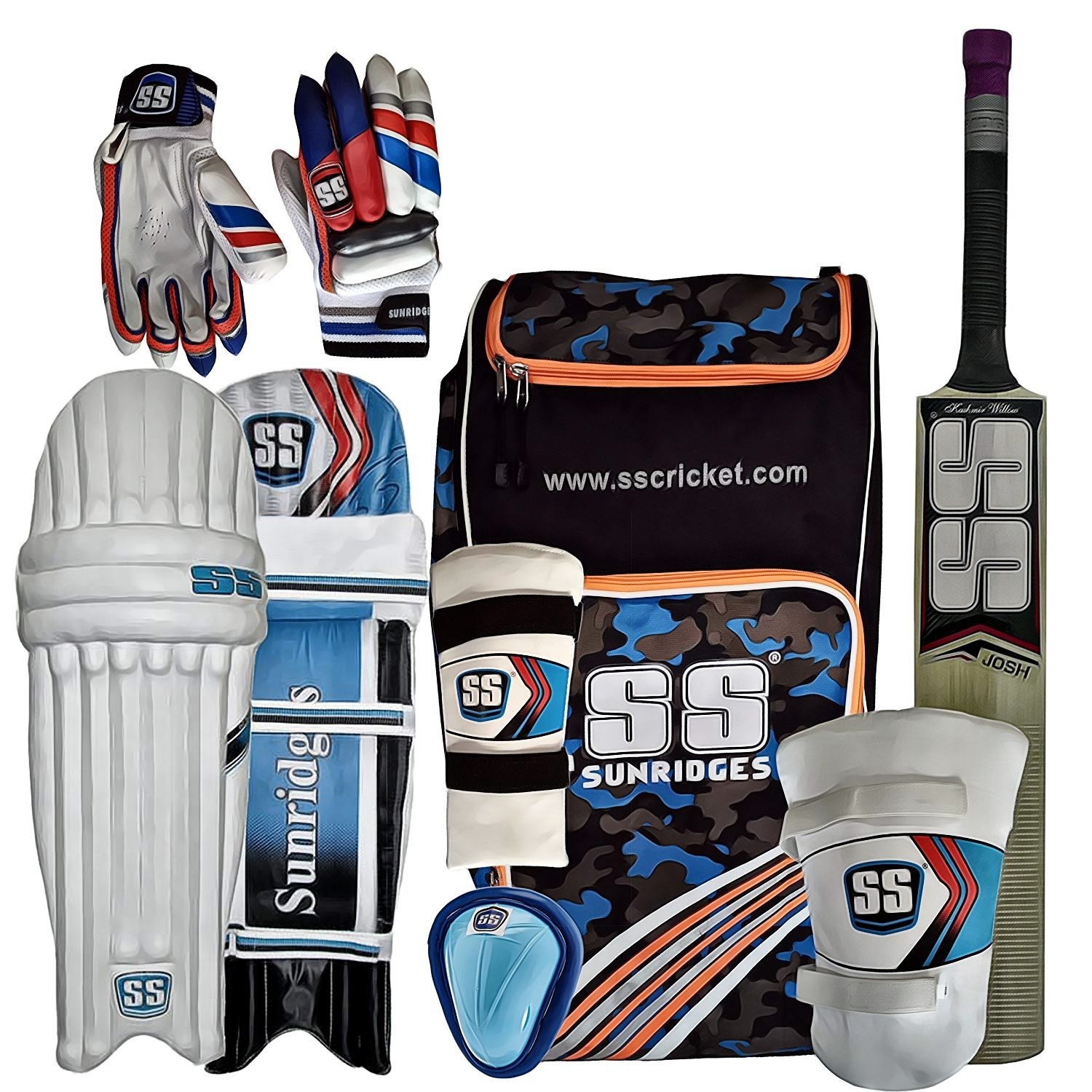 Price
The SS Cricket Set costs ₹ 5,215.00. It is costly because it has more items. It has cricket protective gears such as abdominal guard, leg guard and elbow guard. All of the products come in great quality and are designed for the youth.
Quality
It is a complete cricket kit that has the materials you need. Below are the following items that this kit consist of:
1 Cricket Bat
1 Batting Gloves
1 Thigh Guard
1 Leg Guard
1 Arm Guard
1 Abdo Guard
1 Kit Bag
First, the cricket bat is made of Grade 1 English willow. It is lightweight and offers enhanced grip by its handle made of 12-piece cane. You can do a powerful swing with this cricket bat. One thing that ensures you a maximum hitting power is that this bat is almost the same model from SS' cricket bat collection.
The cricket gloves are made of high-quality leather and lined with a mesh that gives breathability to your hands. It also provides maximum protection because of the finger protectors inside the rolls. This will prevent you from having fractured or broken fingers due to the ball's impact.
You are given maximum protection with the protective gears because they are made of high-quality materials. It also provides comfort so that you will be able to produce a good performance during the match. Whatever match you're playing, your protection is ensured by the gears in the set.
The cricket bag stores all of the items. It also has an external bat pocket where you can store your bat rather than placing it inside with other materials.
Availability
SS is a huge manufacturer of cricket products which are certified bestsellers. This cricket set is available in various online stores. However, due to the brand's popularity, this cricket set may be out of stock in no time so place your orders immediately.
Intended Users
This cricket set is ideal for youth players. It can be used by players who play in Under-19 cricket leagues. The protective gears provide the same amount of protection given to professional cricket players who use SS products.
C. Overall Comparison
To be fair, the two cricket complete sets have a huge difference between each other. The Wasan cricket set doesn't have protective gears. Plus, a tennis ball is provided which makes it obvious that the set is only intended for casual games. SS cricket set has protective gears which are required for professional cricket matches. You can choose either of the two, depending on what kind of match you're going to play.