SS vs Skera Cricket Gloves
These cricket gloves are ideal for young cricketers. Both gloves have differences in quality and materials used.
A. SS College Wicket Keeping Gloves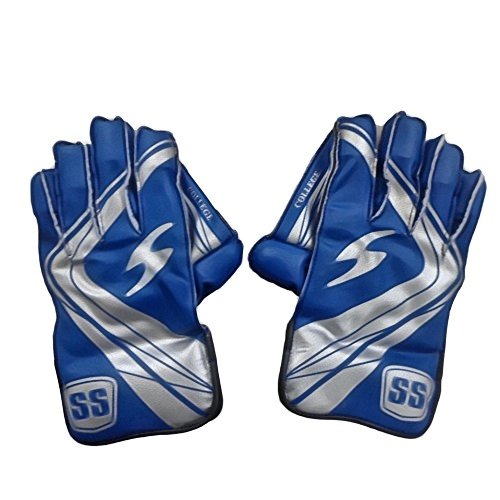 Price
SS College Wicket Keeping Gloves costs ₹ 600.00. This cricket gloves' price may sound cheap but it offers protection and comfort to your hands for wicketkeeping. It is made of few high-quality materials that make it as an ideal cricket glove for club matches and semi-professional games.
Materials
The glove is made of high-quality PVC which makes it durable. The palm is made of fine suede leather while the padding is made of cotton. The padding provides extra comfort and protection to your hands. Sweat absorption is also offered by these gloves since it has a sweat cuff. However, it doesn't have ventilation holes like other SS cricket gloves so sweating will not be controlled.
Weight
Since this cricket glove is composed of a few materials, it weighs 144g. Proper care for your gloves will prevent wear and tear. It will also help maintain its usability for a long time.
Size
The SS College Wicket Keeping Gloves is obviously youth size, meaning for young male cricketers who play in club games, school games and semi-professional leagues.
Design
This wicketkeeping glove has a webbing that enhances you to have a good catch of the cricket ball. The colour scheme of the gloves uses dark colours which may not look pleasing.

B. Skera E3136815 Rookie Wicket Keeper Gloves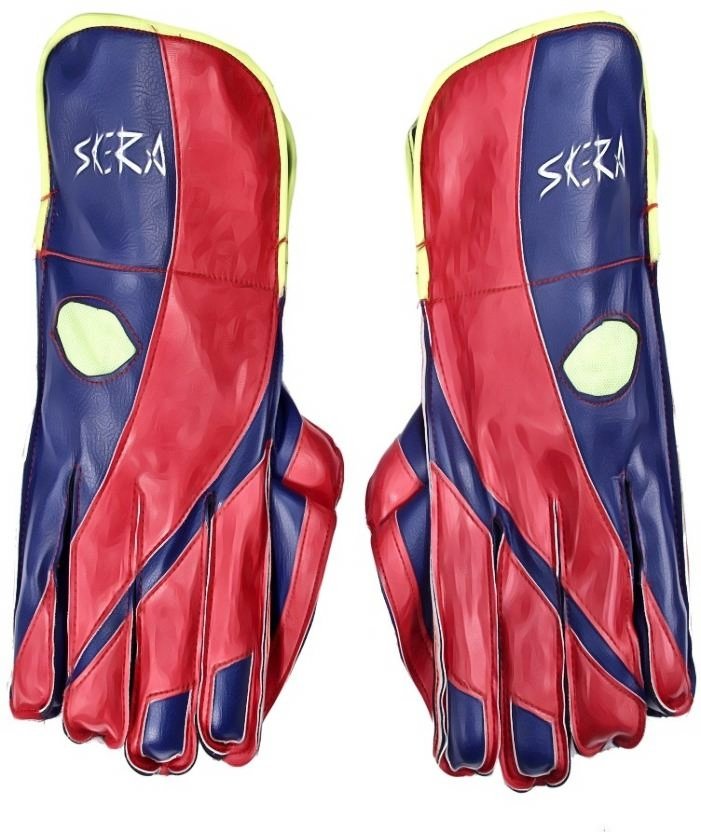 Price
This cricket glove's price is cheap since it is sold at ₹ 825. This glove is only used for casual games played in the neighbourhood or school. It is also suitable for beginners or for players who are tight with their budget and saving to buy the best glove for an authentic cricket experience.
Materials
The materials used to create this glove are not the highest quality, another reason why this product is sold at a very cheap price. However, having an inexpensive price doesn't mean that this glove will not bring you any good. It has an inner-plastic protective casing that gives protection to your fingers.
When you get the chance to catch the ball, you can feel a bit of impact on your hands since the glove doesn't have much padding. It doesn't have air holes to keep your hand fresh so expect that your hands will sweat while playing.
Weight
The glove is lightweight since it doesn't use many materials to make it heavy. It is one of the lightest cricket gloves that you can find in the market.
Size
Skera wicketkeeping gloves are made for beginners in cricket. It has a youth size so it is very ideal for teens who want to play the sport for fun.
Design
The gloves use primary colours that may be a good colour scheme. However, it lacks aesthetic value since the gloves don't have any special design on it as other gloves have.
C. Overall Comparison
Both cricket gloves have a youth size which is ideal for beginners. The SS wicketkeeping glove is the best one since it has enhanced comfort and protection. It is also made of good quality materials that assure good performance in the match. The SS glove is cheaper than Skera but it has a lot to offer for you.