DSC vs SAS Cricket Kit Bag
A cricket bag with limited space but made of high-quality materials versus a cricket bag with multi-purpose pockets but made of medium quality materials.
A. DSC Condor Glider Polyester Cricket Kit Bag

Price
The DSC cricket bag costs ₹ 1,429.00. It is a very affordable price for a cricket bag. It is built from highly durable materials that ensure you a perfect carriage of your cricket equipment.
Materials
This bag is designed for extensive use. It is made of premium DSC Duro material and polyester for durability and flexibility. Heavy-duty nylon tapes are also the materials that this cricket bag is made of. The outer part of the bag is water-resistant, meaning, it protects the items stored inside from getting drenched by rain. The shoulder straps and front handle are also padded.
Features
The bag is a backpack model that comes in modern design. It uses a good colour combination which makes it attractive and classy. However, despite its design, this bag is made solely for cricket equipment and not for the storage of other accessories. The bag has limited space which only allows accommodating items related to cricket. Only accessories that come in small size can be kept in the extra pocket in the front and the mesh pocket on the side.
Comfort / Handling
As mentioned, the bag has shoulder straps and a handle. The straps are padded to provide comfort while carrying it. You can also adjust the straps for your back's comfort. The front handle allows you to carry the bag by hand if you don't want to transport it by your shoulders.

B. SAS SPORTS Cricket Kit Bag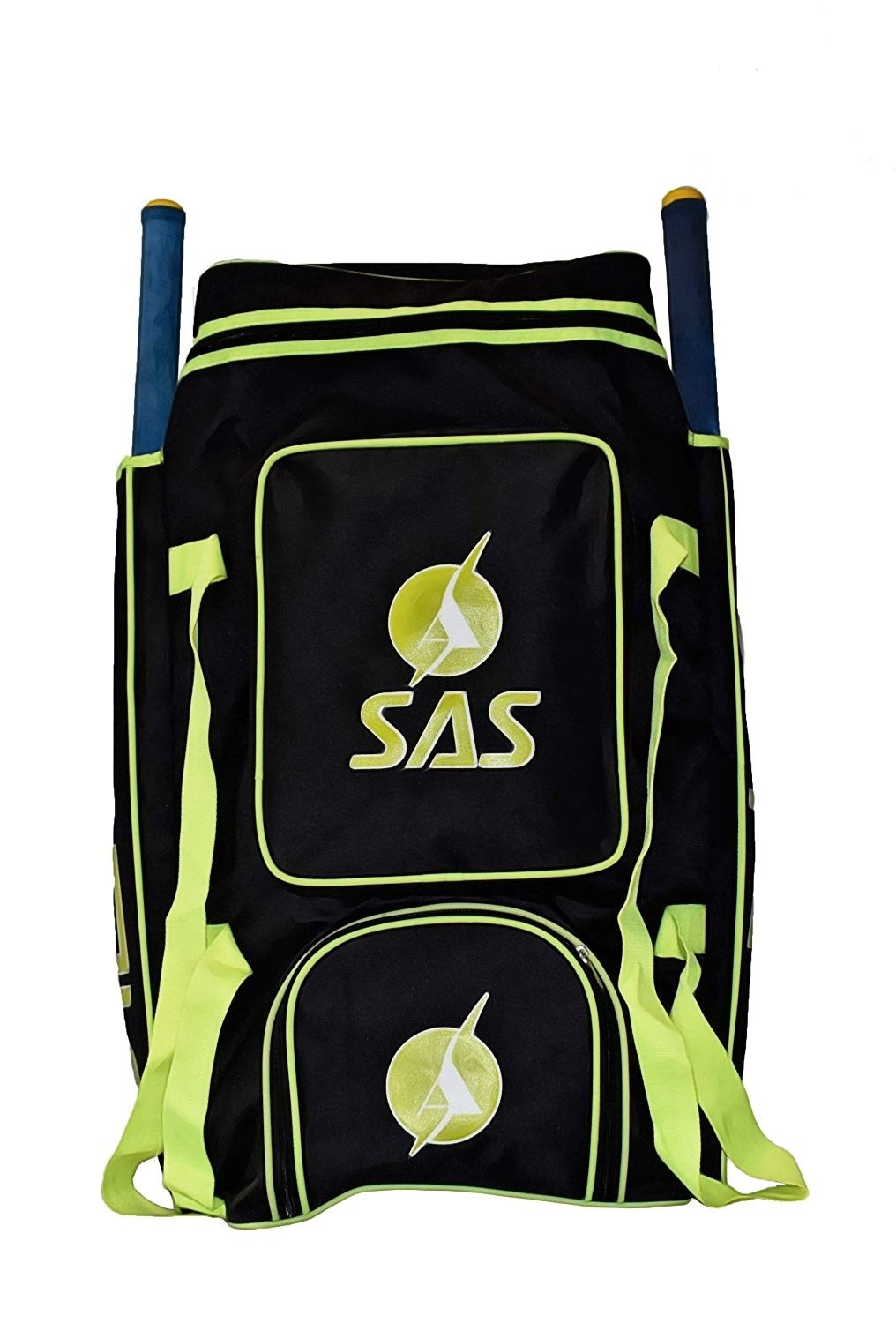 Price
SAS Cricket Bag costs ₹ 1,999.00. The price is relatively affordable. Despite its price, it has a lot of features to offer. It is built with medium quality materials to provide comfort and be capable of storing your cricket equipment.
Materials
The bag is made of polyester fabric for durability. The back straps are padded for comfortable carrying. However, this cricket bag is made of a few materials, most of them are very light. The bag only spans for more than one year. If you're not giving this bag proper care, it will be easily damaged or destroyed.
Features
SAS Cricket Bag has a lot of multi-purpose pockets to store your valuables. The huge compartment is spacious and accommodates your entire cricket kit easily. It has two front pockets for other personal valuables you need to bring. There is a bat pocket on each side. As mentioned earlier, the bag has padded shoulder straps for easy carry.
Comfort / Handling
The bag is very easy to carry and it offers two ways of carrying it. First, you can use the shoulder straps for easy carry. Again, the straps are padded so you will feel comfortable while carrying it. Second, the bag has extra straps where you can carry it by hand. However, these straps are not the highest quality so if you have a lot of items stored inside, this may snap the straps.
C. Overall Comparison
Obviously, DSC wins in terms of durability. Despite DSC cricket bag's limited accommodation, it is made of high-quality materials. This ensures that this bag's usability will last longer. SAS cricket bag may be flexible because of its multi-purpose pockets but if you store accessories aside from your cricket kit, this will easily destroy the bag. Given the fact that the bag can fit two cricket bats, this may affect you when carrying the bag because of its weight.