Klapp vs SAS Cricket Kit Bag
Find out which of the two cricket bag has an excellent combination of accommodation and durability.
A. Klapp CRICPRO Cricket Kit Bag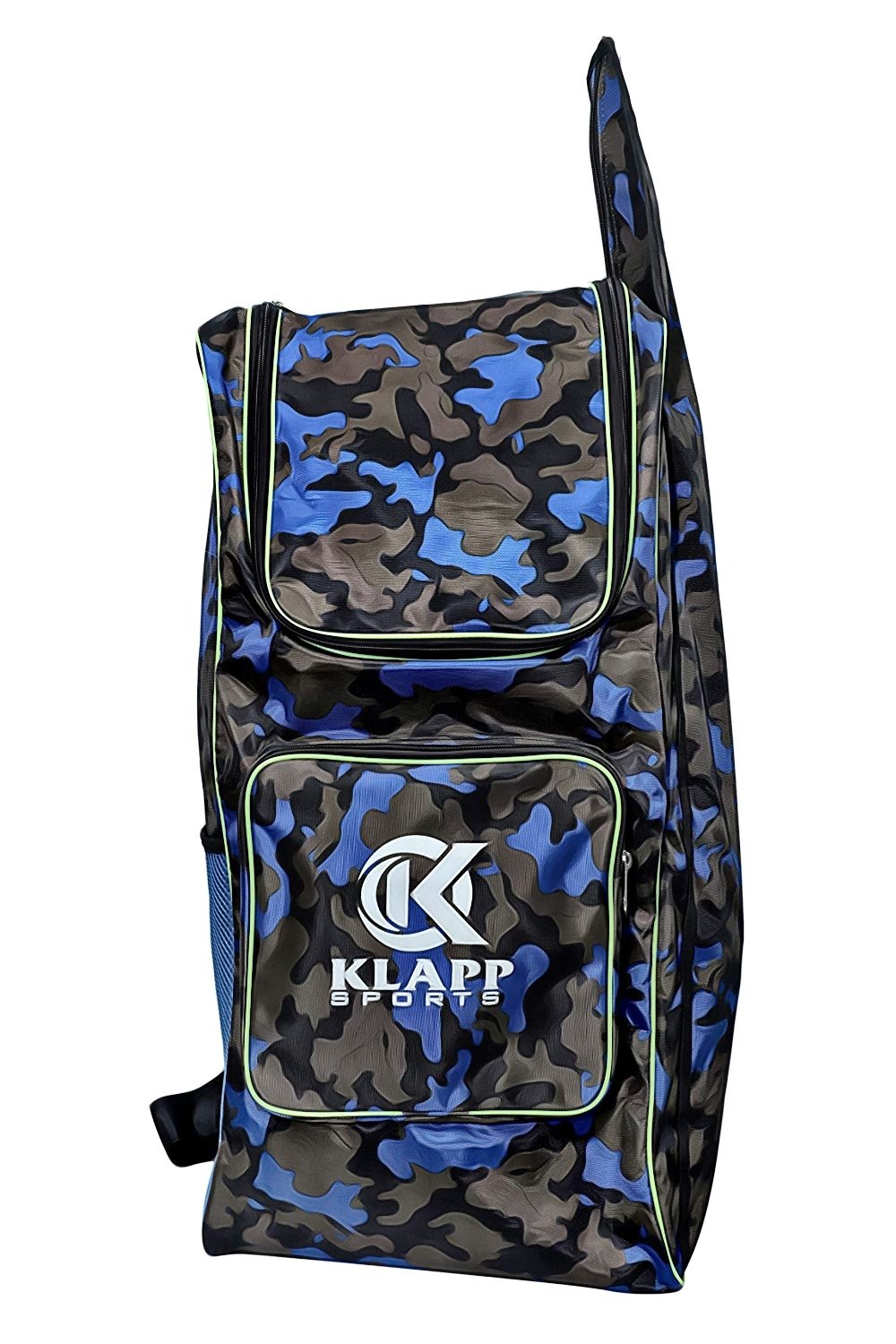 Price
This product only costs ₹ 1,499.00. The price is slightly cheap for a cricket bag. However, it is made of materials that are durable and capable of storing your cricket kit.
Materials
As mentioned, this cricket kit bag is made of durable materials. The outer shell is made of synthetic cloth. It is 100% machine-stitched and secured by heavy-duty zips. The base of the bag is supported by padding so that it will not sag while carrying the items inside. It doesn't look good if the bottom of the bag sags because of the contents.
Features
The bag has a huge compartment that can accommodate your cricket kit which includes your protective gears, uniform and other items related to the sport. You can store your cricket bat in the bat pocket at the right side of the bag. Two extra pockets are also provided in the bag so you can keep other accessories.
The bag comes in a camouflage design that adds style to the player. It has a perfect build and doesn't come with any add-ons or nonsensical design. This product is perfectly suitable for junior and senior cricketers alike.
Comfort / Handling
This cricket bag is a backpack type so you can only carry it by your shoulders. The shoulder straps are padded and adjustable for the comfort of your shoulders and back. If you don't want to get exhausted while carrying it, don't store too many items.
B. SAS SPORTS Cricket Kit Bag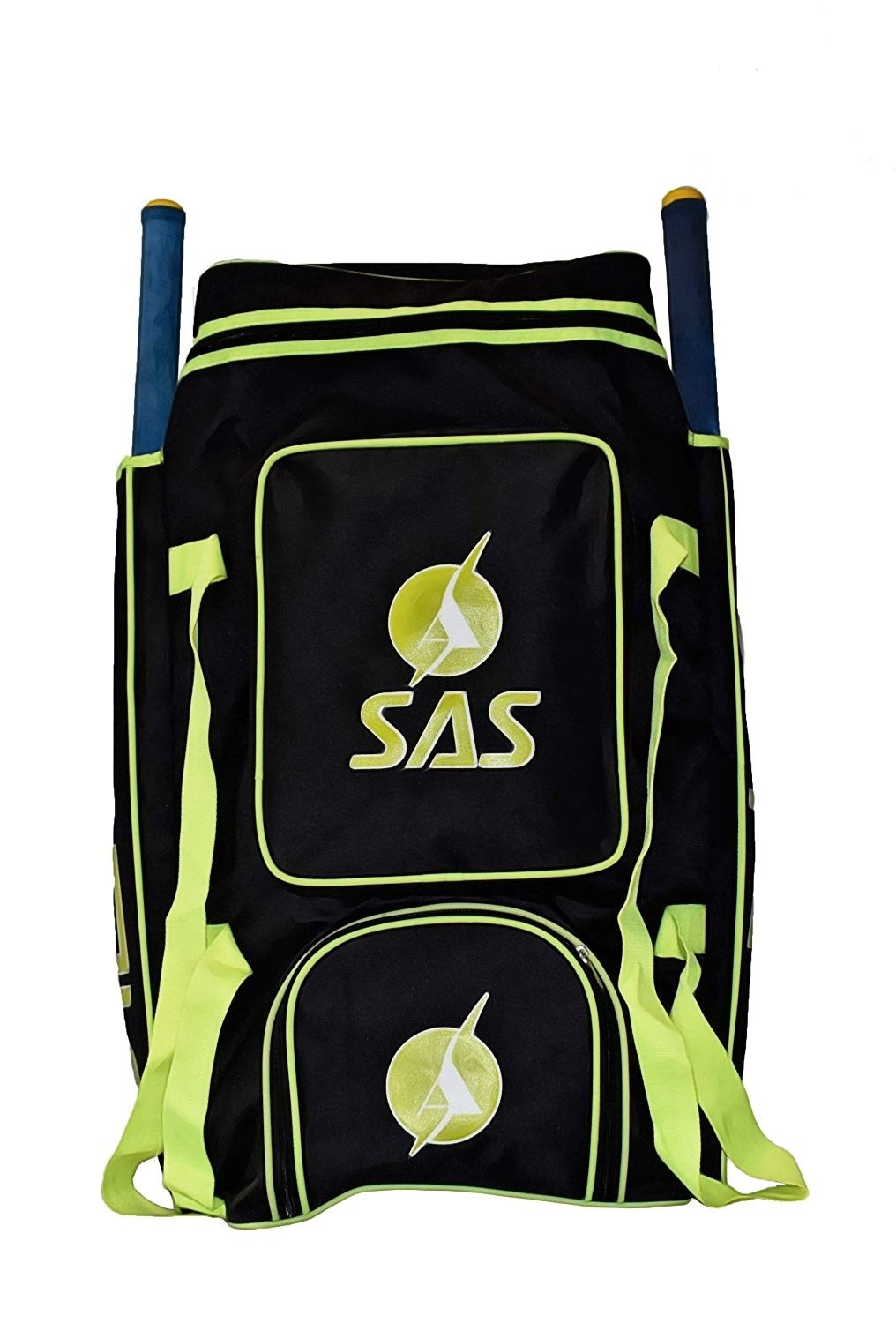 Price
This cricket bag costs ₹ 1,999.00, a relatively affordable price which is valuable for your budget. It is made of low to medium quality materials, however, it is capable of storing your cricket kit.
Materials
The SAS cricket bag is made of polyester fabric. It has padded straps, made for comfortable carrying. Most of the materials that this bag is built of are light. If you will carry too many items inside, this can break the bag easily. The life span of this bag is limited so you have to give this bag proper care to prevent damages.
Features
This cricket bag is designed for multipurpose use. The bag's main compartment has a huge opening so that you can place any item inside without a hassle. It has a lot of pockets where you can keep any accessory that you want to bring. Both sides have bat pockets so that you don't have to store your cricket bat in the main compartment. However, if you will carry two bats in the bat pockets, this can easily destroy the bag.
The SAS cricket bag has a good design and colour combination. However, the dark colour may not be pleasing to the eyes and doesn't help to give cool vibes to the user.
Comfort / Handling
You can carry the bag in two different ways. One, you can carry it using the shoulder straps. As mentioned, the straps are padded. Two, you can carry it by hand using the extra straps. However, you need to be careful when carrying it by these straps because it is not made of high-quality material. If your bag is packed with a lot of items, this can snap the straps easily.
C. Overall Comparison
Klapp wins because it is more durable than SAS. It has fewer risks of being damaged after carrying your cricket equipment for a long time. They both share the same amount of accommodation but in order to be capable of carrying your cricket equipment, the product must be durable enough.