SG vs SAS Cricket Kit Bag
A cricket bag made by India's most trusted cricket brand and a multi-purpose cricket bag with a lot of pockets but made of materials that are not the highest quality.
A. SG Ecopak Kit Bag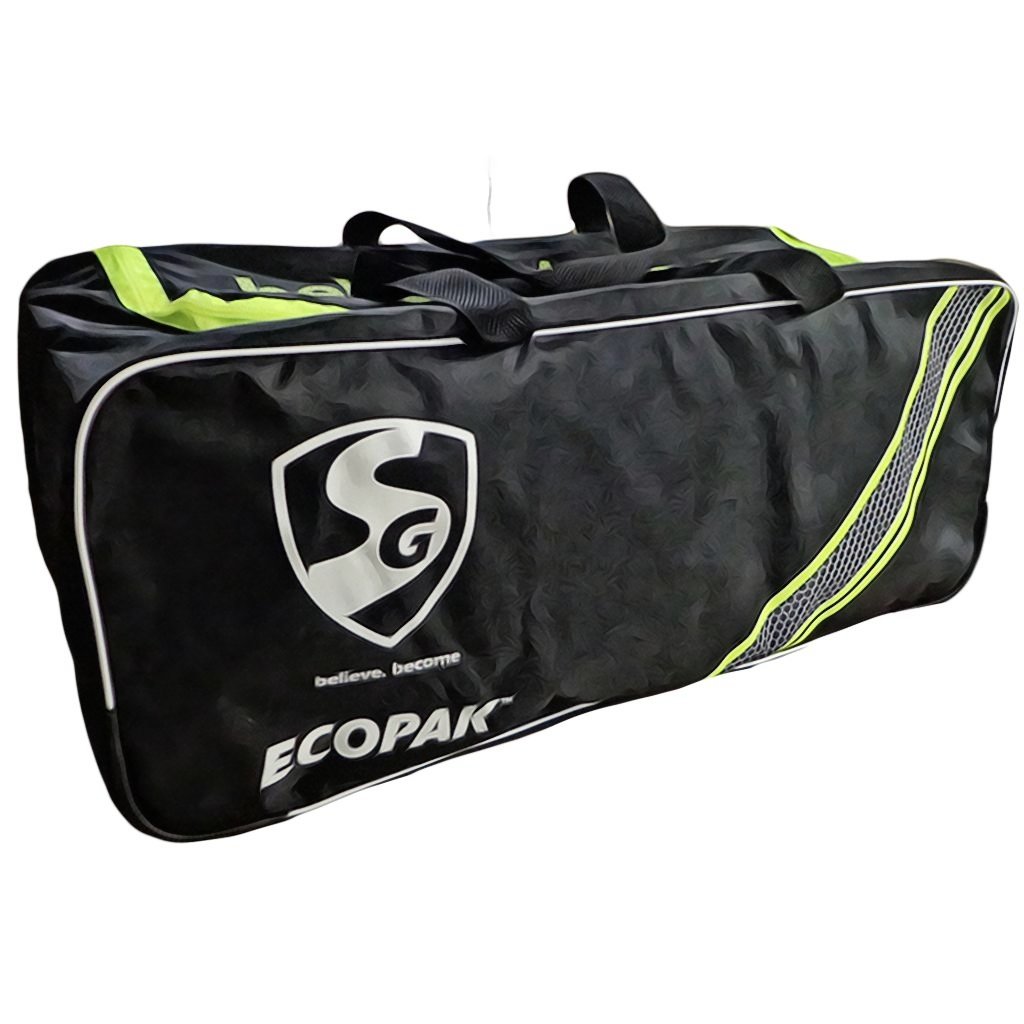 Price
This cricket kit bag only costs ₹ 749.00 since it is designed for entry-level and junior cricketers. It means that you can use this bag as a starter for your career. Given the price that this product has, if you're still a beginner, this product is ideal for your budget.
Material
The product is built with premium materials such as nylon tapes to provide reinforcement to the bag. Its entirety is machine-stitched which adds durability to the bag. It makes the bag capable of carrying a lot of items inside. This ensures that the product lasts long. An extra-durable sheet is inside the bag's base which gives added safety for the items stored inside.
Features
The bag's compartment gives perfect accommodation for your cricket equipment. It is spacious enough to store your protective gears, clothing and other accessories that you need for the match. Store every item properly so that it will not sustain any damage while it is inside the bag. At the bag's facing, there is a pocket where you can store your cricket bat rather than placing it inside the bag. This will also prevent your bat from getting unnecessary scratches or damage.
The bag doesn't have extra pockets so you only store other valuables inside the main compartment. Just a reminder, only bring the things that are relevant to the sport.
Comfort / Handling
You can carry this cricket kit bag by hand. It has two straps you can use for carrying. However, this can be tiresome so if you don't want to feel exhausted while carrying it, it is advisable to only bring valuables that you will use for the match such as towels and extra clothing.
B. SAS SPORTS Cricket Kit Bag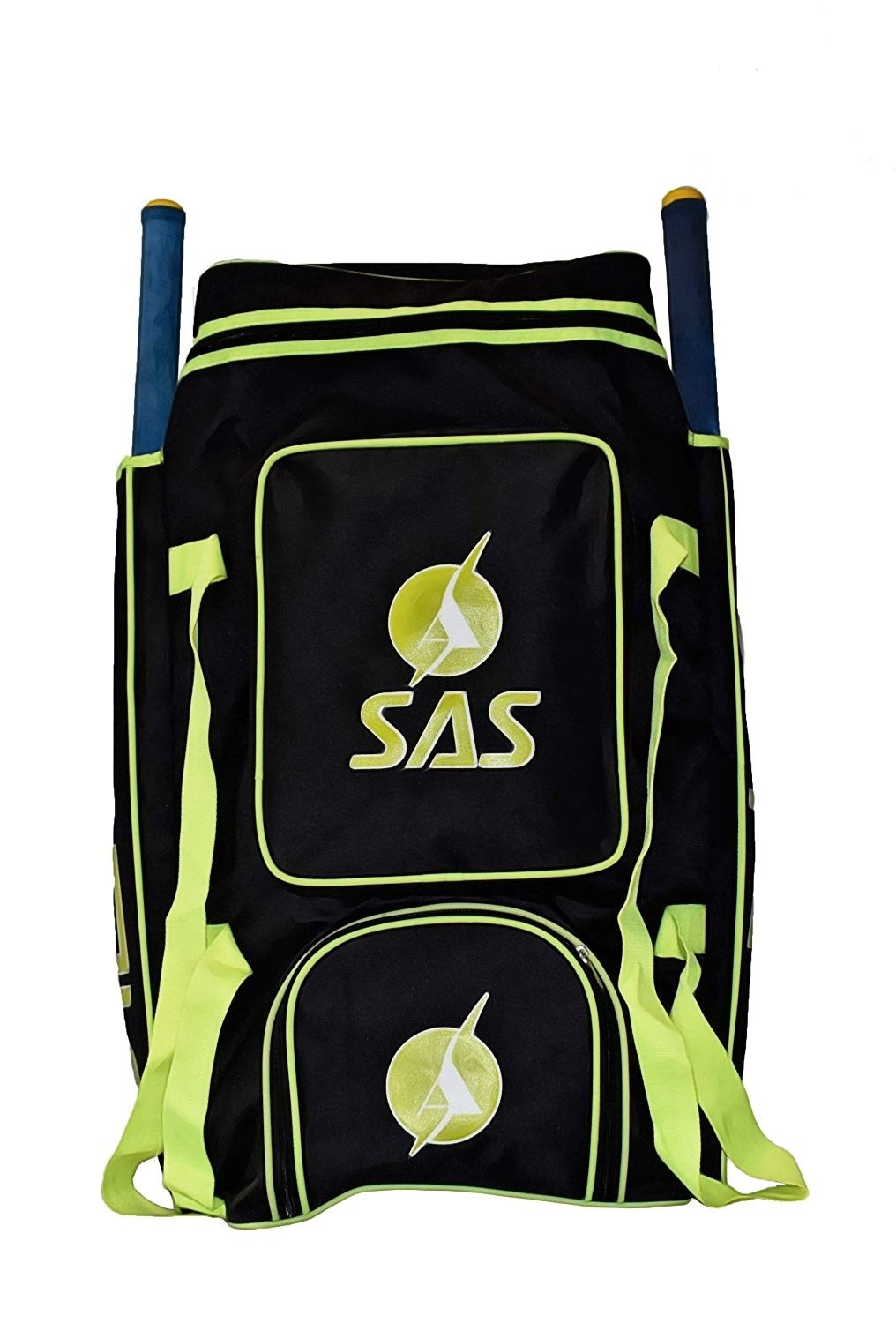 Price
The bag has a slightly expensive price which costs ₹ 1,999.00. It is made for multi-purpose use since this bag has more pockets than the previous product. However, it is made of low-to-medium quality materials so you have to be mindful when using it.
Materials
The SAS cricket bag is entirely made of polyester fabric. It has a pair of padded shoulder straps and non-padded extra straps. Most of the materials that this bag is made of are light. The usability of this product can only last for more than a year or less. You have to give this product proper care to prevent it from breaking easily.
Features
The bag's main compartment can store your cricket equipment such as your pads, gloves, clothing and the like. It is spacious so you can fit a lot of items inside. As mentioned, the bag has extra pockets to store accessories. On each side of the bag, it has bat pockets to store your cricket bat. However, it is recommended that you should carry one cricket bat in the bag so that you can maintain the bag's durability.
Comfort / Handling
You can transport this bag in two ways. First, the shoulder straps. It is the easiest and most comfortable way to carry it. However, if you have a lot of items to put in the bag, you will feel exhausted and hassled because of your bag's weight. The second way is carrying it by hand using the extra straps. This is also risky when your bag is full because the straps may snap when you're carrying it for a long time.
C. Overall Comparison
SG cricket bag is the best option since it is very durable, despite not having many extra pockets. It doesn't matter if it doesn't have extra pockets because all you have to store in your bag are the important and necessary items for the match. Plus, you're going to a cricket match, not camping.
There's no point of denying that SAS cricket bag is multi-purpose, however, given the materials that it is made of, it can break easily. It will be a pain for your budget because you have to buy a new one again. So you better stick to a product that will last longer.