An ordinary cricket bag versus a multi-functional cricket bag
A. SG Ecopak Kit Bag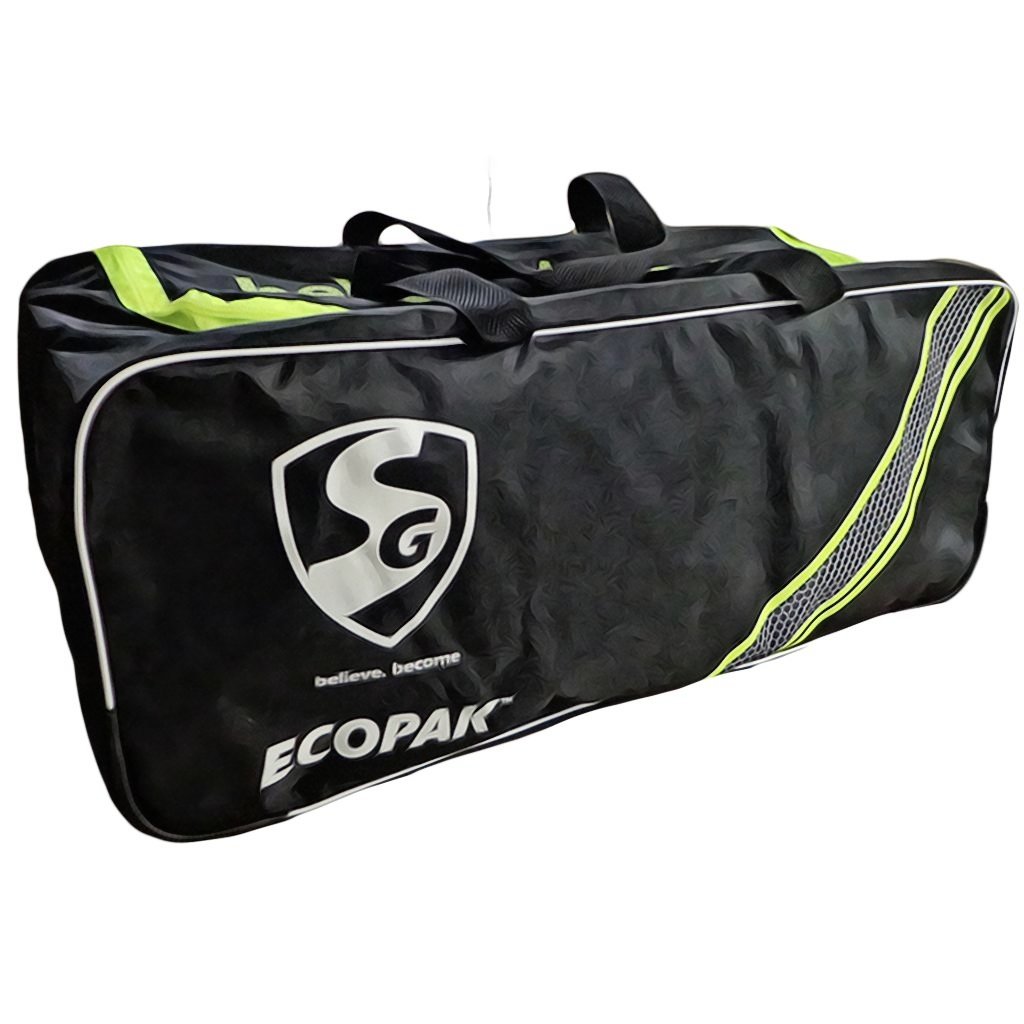 Price
The SG Ecopak Kit Bag is sold at a very affordable price of ₹ 749.00. This cricket bag is very ideal for beginners and junior cricket players, youth and adult alike.
Material
The bag is made of a combination of high-quality materials. Extra reinforcement is provided by its heavy-duty nylon tapes. It also has an extra-durable base sheet for long-lasting use. It is 100% machine-stitched and it doesn't break easily by the added weight of the items inside the cricket kit bag. The bag comes with a minimalist design. It is simple but there is still a sense of style to make a player look cool with it. Also, the colours of the bag match perfectly.
Features
The bag is spacious enough to fit your cricket kit. You can store your pads, gloves, helmet and other cricket equipment you need for the match. There is a bat compartment available where you can store your cricket bat. It will also prevent damage for your cricket bat. Rather than storing it with other materials inside the compartment, the bat pocket will accommodate it for you.
However, the bag doesn't have extra pockets to store your other valuables. If there's room in the bag's main compartment, you can store other items there.
Comfort / Handling
The bag is a hand-carry type. It is easy to carry if you're going to put the main items you need such as your bat, helmet, pads and shoes. However, if you have too many items inside the bag, you may feel fatigued after carrying this bag for a long time. It is advised not to put other items that are unnecessary for the sport if you don't want to carry this bag using both hands.
B. SS Matrix Kit Bag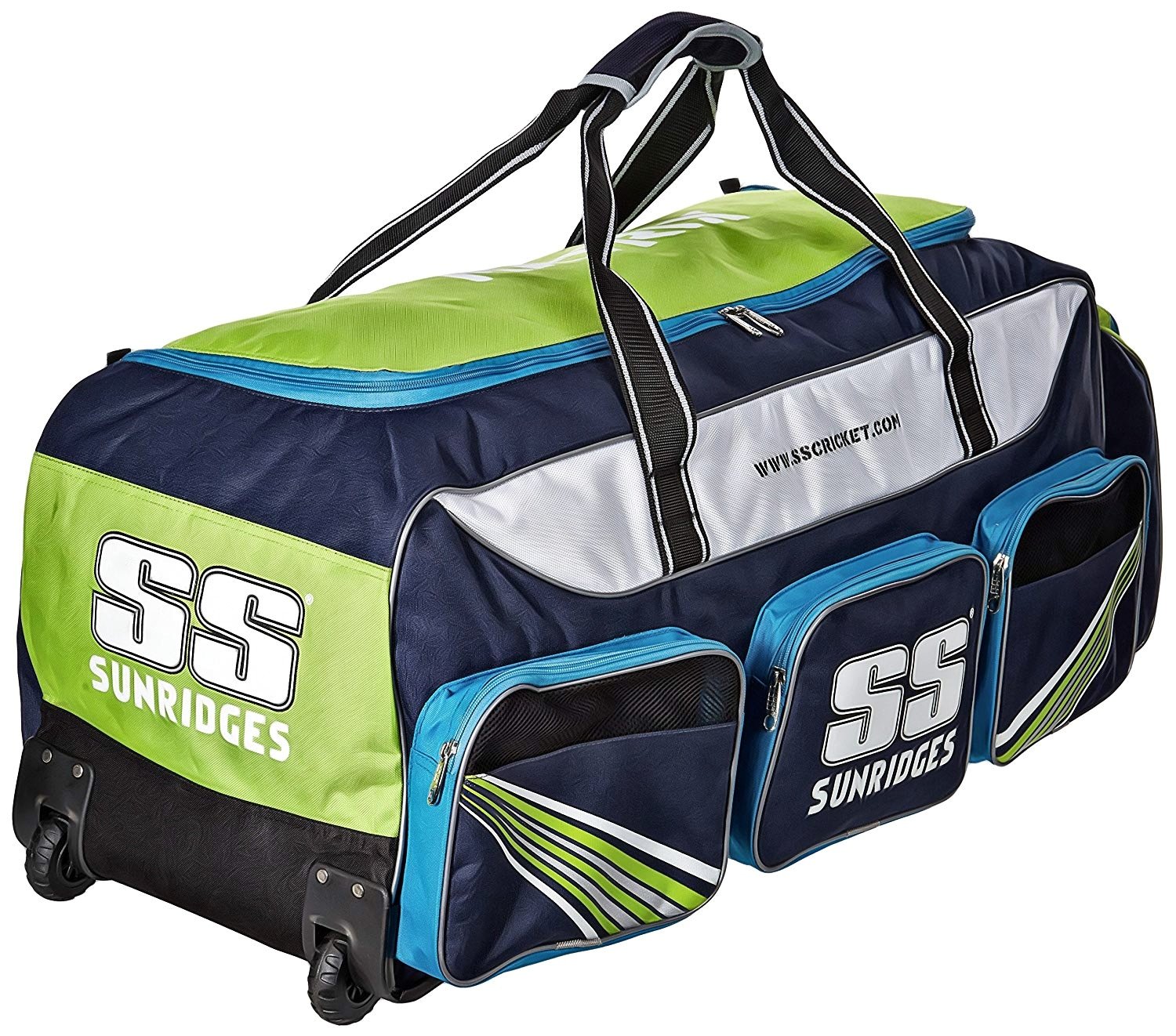 Price
The SS Matrix Kit Bag costs ₹ 2,900.00. It is valuable for your budget because it has a lot of features that provide easy carriage of your cricket equipment and other items.
Material
The bag is made of premium nylon material and other high-density material which makes it long-lasting. It does not have a lot of padding inside but the bag is fully protected by the nylon material from rain. At first glance, the bag looks bulky but it is lightweight. It is designed for a capable carriage of cricket equipment. The SS Matrix Kit Bag comes in different colours (red, green, orange, blue).
Features
Given the size of this cricket bag, it is not a surprise that the main compartment is wide and spacious for the storage of your cricket equipment. The heavy-duty zips of this bag offer maximum security for all of your valuables stored inside the bag. If you want to store other items, there are three outside pockets available. A shoe compartment is also provided to store your cricket shoes so you don't have to put it in the main compartment along with your cricket equipment.
Comfort / Handling
For easy carry, the bag has a moulded rubber grip handle. However, this may be tiring especially when you're carrying many items in your bag. Another way for you to transport your cricket kit using this bag is by strolling it. The bag comes with a retractable carry handle and two heavy-duty wheels. For extended protection of the bag and your cricket equipment, a protective railing is built on the base.
The carry handle measures 3 inches wide and 5 inches long. It is less hassle if you will carry the bag using the handle.
C. Overall Comparison
The SS Matrix Kit Bag wins this one because it provides more convenient features than the SG cricket kit bag. Also, the quality of the SS cricket kit bag is also more superior than SG. Every feature is made for easy carriage of your cricket equipment and personal goods. The SS cricket bag is not that costly so it is very worthy for your money to buy this all-in-one cricket bag. However, if you're a beginner and you still don't have much cricket equipment, the SG cricket bag is for you.