SS vs SAS Cricket Kit Bag
Two cricket bags with multi-purpose features but differ in quality.
A. SS Matrix Kit Bag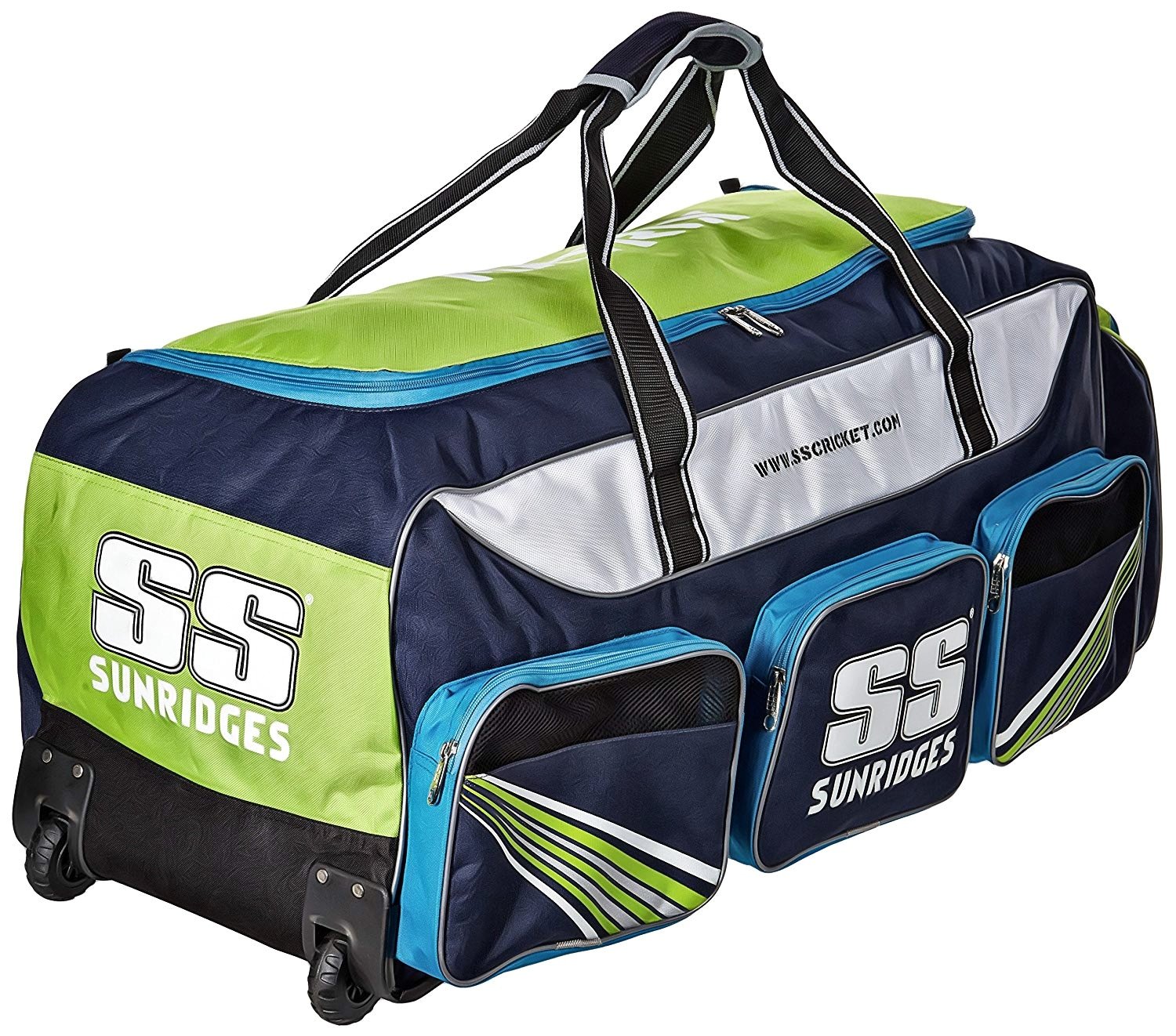 Price
The SS Cricket Bag costs ₹ 2,900.00. It is not that costly but it is definitely worth it because of the features that offer quality carriage of your cricket equipment. It is also a multi-purpose bag designed for long-lasting use.
Materials
The bag is made of high-quality materials that ensure its durability. The high-quality nylon and other high-density materials give strength to this cricket bag to accommodate your equipment and personal items. Since the bag doesn't have padding inside, the nylon material keeps all of the items protected. It is perfectly designed for a heavy-duty carriage of your cricket kit.
Features
The main compartment's size is very spacious. It can accommodate your cricket bat, guards and helmet. If there's extra space, you can keep other items such as towels and extra clothes. There are three extra pockets where you can store other valuables. You can keep your cricket shoes in the shoe compartment located near the main compartment.
All pockets are secured with heavy-duty zips. For added security, the bag's base is protected by a protective railing which holds the retractable carry handle.
Comfort / Handling
The bag is perfectly convenient as it offers two ways of easy carrying. You can convert the bag into a hand-carry bag or into a wheelie bag. The moulder rubbed grip handle is used to carry the bag. If you don't like carrying the bag, you can stroll it effortlessly. The bag has heavy-duty wheels and a carry handle provided.
B. SAS SPORTS Cricket Kit Bag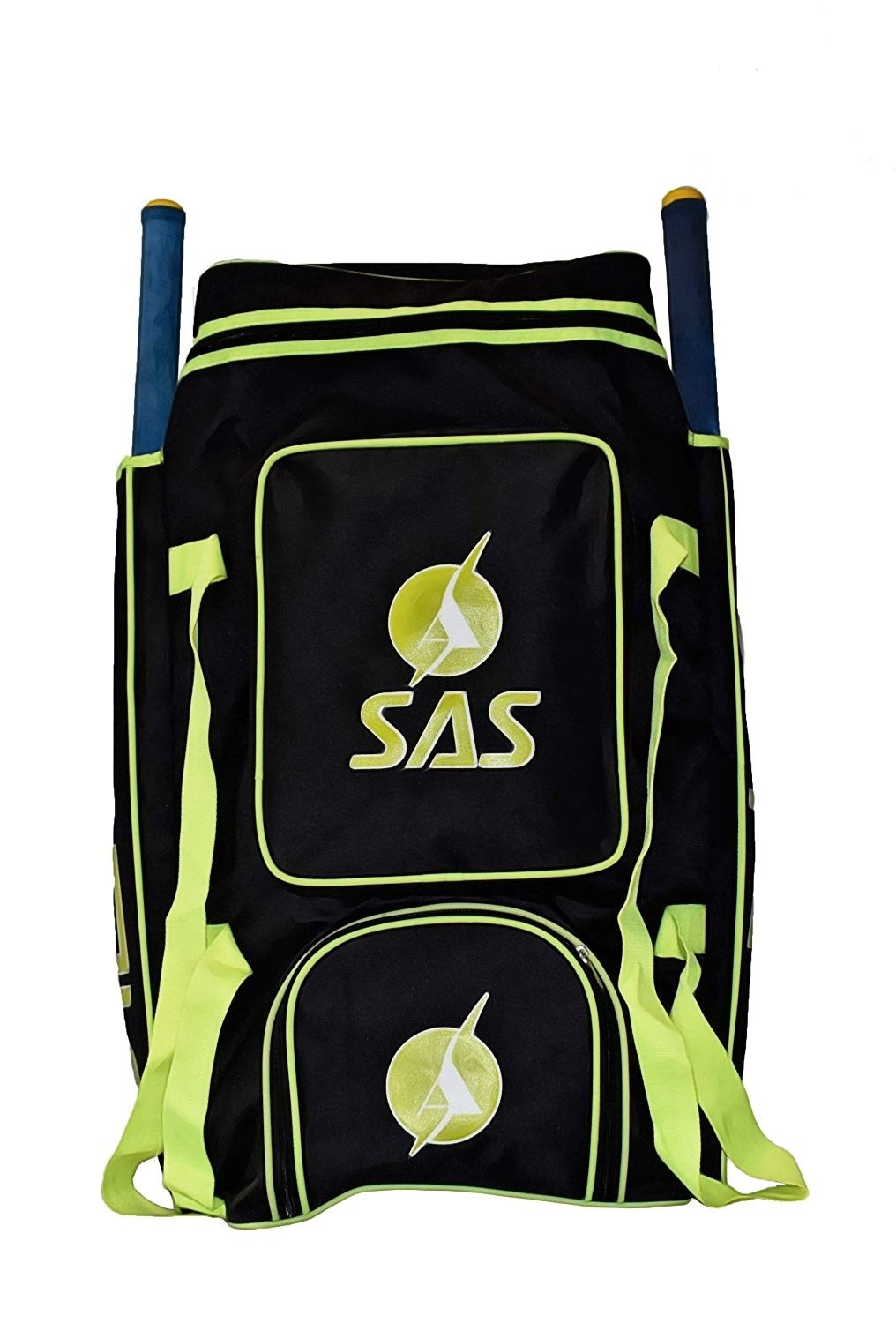 Price
The cricket bag comes at a very affordable price. It only costs ₹ 1,999.00. This product is cheap because it is made of medium quality materials.
Materials
The bag is made of polyester fabric. The type of material mentioned is not the highest quality so if this bag is not given proper care, the usability may only last for more than a year or less. The bag's inner part is spacious to accommodate your cricket kit. The shoulder straps have padding inside for comfortable carrying.
Features
The cricket bag has multi-purpose pockets where you can store other accessories. The main compartment is located at the middle front of the bag. Below, you can find an extra pocket where you can place small or easy-carry items. The two sides of the bag have pockets where you can put your cricket bats.
Comfort / Handling
Carrying the bag can be done in two ways. You can use the shoulder straps which are adjustable for your shoulders' comfort. They are also padded for extended comfort while carrying it. There are two extra straps provided so you can carry it by hand. However, the straps don't come in good quality so it may be easily damaged if the bag has too many items stored inside.
C. Overall Comparison
SS cricket bag is the best choice because it is highly durable and offers great features. SAS may have good features. However, the materials that this bag is made of, are not the highest quality. SS cricket bag may be more expensive than SAS but its quality will guarantee you an extensive use.