These thigh pads almost have the same features and amount of protection but it differs a little with the materials used.
A. BAS Vampire Player Thigh Pad 2 Strap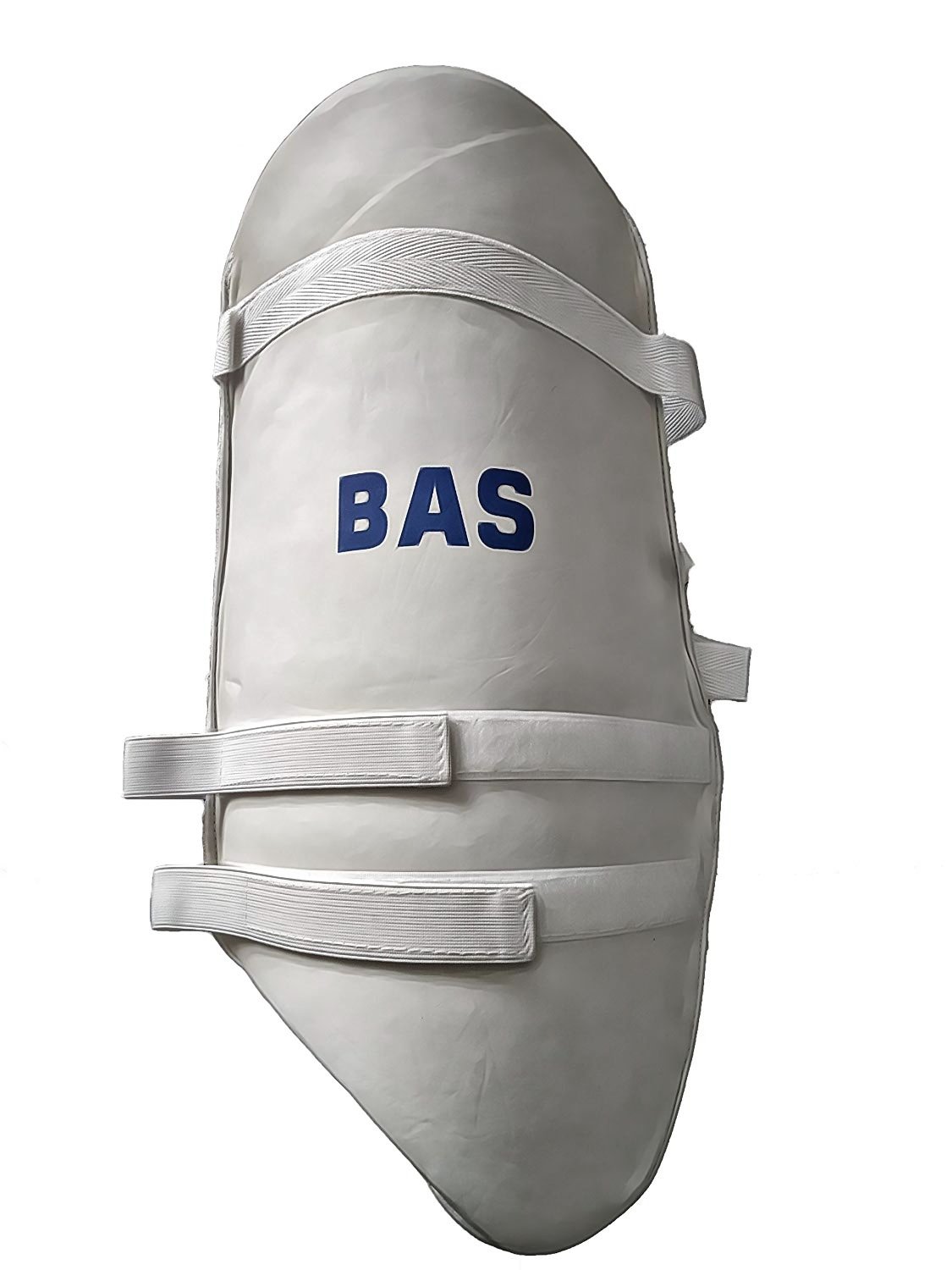 Price
This thigh pad costs ₹ 1,730.00. The price is worthy of your budget because it has features that will provide comfort and protection during the match.
Material
The thigh guard is made of medium-quality materials but it still provides comfort and protection. The inner part is made from shock-absorbent materials such as cotton and cloth to prevent injuries due to the ball's impact. When you're playing in hot weather, the sweat is absorbed by its soft-absorbent towel back. The outer part of the guard is made from leather and low-density foam for added protection.
The two elastic velcro straps are wrapped around your thigh to enhance security. Aside from these straps, there are also two extra straps. These prevent from falling or loosening during the match.
Area Protected
The BAS Vampire Player Thigh Pad 2 Strap's top priority is the thigh. The protection and comfort of this thigh guard are also provided to the knee which is one of the vital parts of our body. It is prone to injuries caused by the ball's impact. You can use this pad across three formats of cricket.
Comfort
The thigh guard provides comfort to the player. However, it may be uncomfortable during an extended period of time. The straps are adjustable but you can feel discomfort because of its tightness.
B. GM 1600983 909 Cricket Thigh Pad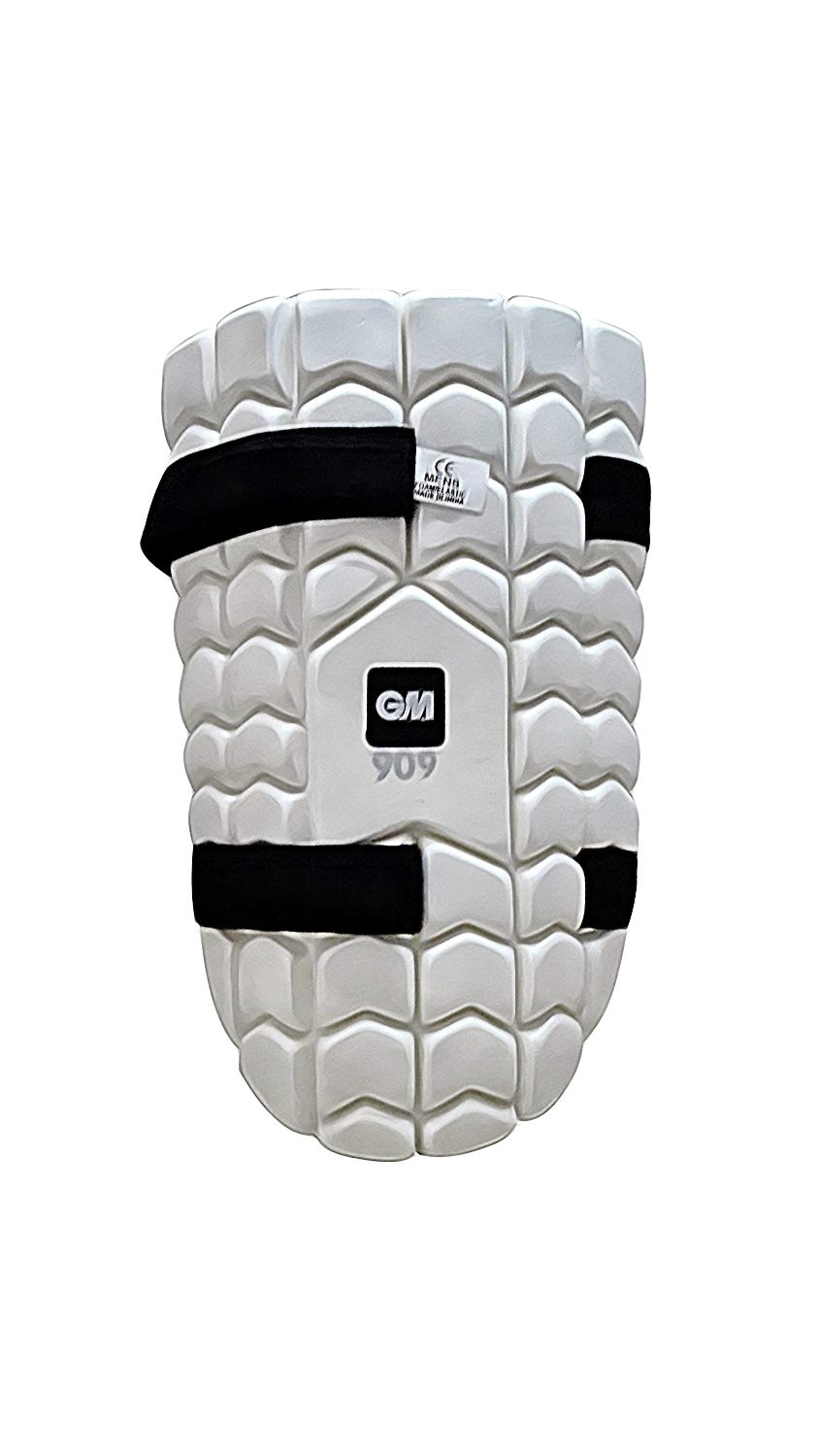 Price
The GM thigh pad costs ₹ 510.00. It is relatively cheap but it provides a lot of advantages to the cricketer who will use it. Plus, it has features that are worth the price.
Material
The thigh guard comes with a unique design which differs from the pads that you can find in the market. It is an excellent product that brings quality, comfort and protection. The pad is made of dual-layered high-density foam. The facing is made of PU material for easy cleaning and durability. For fast and secure fastening, soft elasticated straps are provided. Cooling and breathability are also offered by the thigh guard because it has a Lycra material and a towel back.
Area Protected
The thigh guard shields your thigh area when batting. It is important that it is protected to prevent injuries to your shin bone. The cricket ball is very hard enough to cause a fracture to your bone once you are struck by it.
Comfort
This product is very light and tough to protect your thigh during any formats of cricket. The features of this thigh guard provide extensive comfort especially when batting. As mentioned, it provides breathability to your thigh area during play especially when the match is being played during summer.
C. Overall Comparison
The GM thigh guard is the best one in terms of comfort and quality. It is also made of high-quality materials that will guarantee you worry-free gameplay. The thigh guard's flexibility allows you to use it in any game such as professional leagues, club and casual matches. The two thigh guards almost have the same features and they're both ideal for all formats of the sport.