Both leg guards are made with rubber and cane but differ in terms of quality
A. DSC Cricket Batting Leg Guard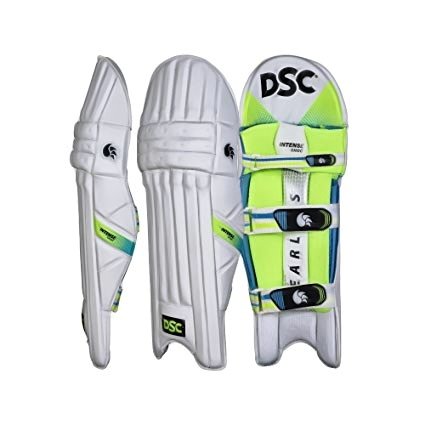 Price
The DSC 1500386 Intense Shoc Cricket Batting Leg Guard costs ₹ 1,999.00. It is very affordable and valuable for your money since it is perfectly made with complete materials.
Material
The leg guard is made of top quality materials that ensure better protection and performance during the match. It has a unique design that adds style to your cricket uniform. The face is made of high-quality PVC facing and cane construction. This makes your shin protected from getting injured by the cricket ball travelling at high speed.
Another feature that these pads have is their tri-section shin bolsters. Once you wear this leg guard, you can feel the comfort and protection on your legs. Your worries will be driven away once you're wearing it.
Area Protected
Leg guards provide protection to the player's legs to prevent injury. A cricket ball's impact can injure your shin and femur. It will be costly to treat your injury so wearing a leg guard is a must.
Comfort
Given that the leg guard has straps, the buckle is padded for extra comfort and quick fastening. To keep the air flowing, especially during matches held in hot weather, the breathable mesh is provided.

B. Wasan Cricket Batting Leg Guards
Price
The leg guard is sold at a very affordable price of ₹ 750. It is ideal for young players aged 10 to 16 years old. This also makes the leg guard used for club games and casual games.
Materials
The face is made from PVC plastics while the inner part is filled with cotton that guarantees protection to the player during use. The shock absorbent front is also made of cane that adds more durability. However, since the materials that made this leg guard are not high-quality, you can feel the ball's impact but you're still safe from getting your leg injured.
Area Protected
The leg guard prevents your knee, leg and ankle from sustaining injuries caused by the ball. Failing to wear a leg guard will compromise your performance in the match especially the safety of your leg.
Comfort
The pads don't hinder your performance in the field. You can move comfortably during the match. It is also lightweight so it will not be hard for you to run in the pitch to score a run.
C. Overall Comparison
The DSC leg guard is obviously better than the Wasan leg guard in terms of materials and quality. DSC may be expensive but it is worth buying because it can guarantee you maximum protection and extra comfort. If you just want to play cricket for fun, then you should have the Wasan leg guard for a practical option.