SG vs Kookaburra Cricket Bats Review
One 'pickup-and-play' cricket bat versus one 'professional specs' cricket bat.
A. SG Cricket Bats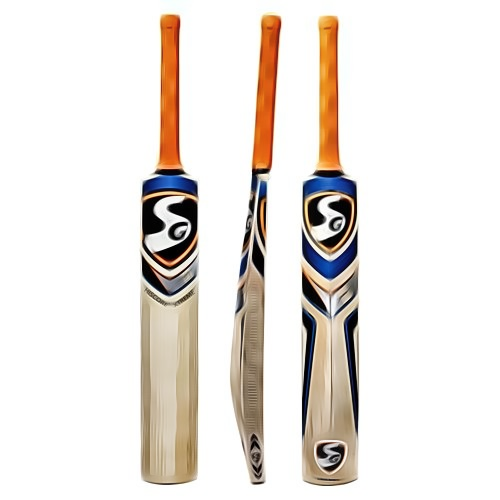 Price
The SG Hi-Score Xtreme bat costs around ₹39,999. It may be expensive but it is worth the price. Cheaper bats are used for children's games. As the bat's price increases, it usually indicates that the user is more mature.
Materials
This specific type of cricket bat is made of Grade 1 English willow, sounding off a distinct 'knock' when hit by a cricket ball in its 'sweet spot' which is at the centre. It's there mainly because the swell is positioned at the middle of the bat for precise hitting.
Measurement
For a full-size bat (which is recommended if your height is six feet and above), the bat's overall length is 876 mm, with the handle measuring 318 mm and the blade measuring 559 mm. The spine ends in the middle of the blade making the bat best suited for slow- to medium-paced bowling. The handle is in a circular shape and has a short stump at the bottom, presumably so that you won't let go of it when swinging in full force; it also tells you where the end of the handle is without having to look at the handle itself.
Lower range SG bats often do no follow the prescribed measurements: incorrect edge dimensions, narrower face, and a swell that is not evenly distributed on the back of the bat.
Higher range SG bats need to be followed because they follow certain specifications often set by professional players themselves, and also because these types of bats are used in the professional setting.
Handling
SG bats tend to be suited for slow- to medium-pace bowling, making them suited for stroking or precision hitting as opposed to strong hitting. Gripping the handle can be a little difficult because it is round; this tends to not give a definite 'profile' for you to hold as opposed to an oval-shaped one.
The weight of SG bats are usually balanced all around. The entire weight is focused in the middle of the bat, making for excellent handling capabilities. Holding the bat with a single hand doesn't put a too much tress on it, emphasizing the balance that it boasts.
Regardless whether the bat is low or high grade, this is SG's trademark - bats that are balanced and are made for precision strikes.
Availability
Almost all SG bats are readily available in online shopping websites and in-store. High-end bats have to often be ordered in advance given that they are manufactured to certain specifics and standards.
Some bats that are delivered from overseas have a shipping fee which is often at ₹65 or above, depending on the price of the bat.
Popularity
The SG brand of cricket bat is popular mostly among Indian players. Because of it being produced and marketed mainly in India, the exposure it gets there is higher than other brands being imported into the country. And because most Asian players use this brand, it is also popular in the region that other brands.
There are numerous professional players, both retired and active, that use SG cricket bats. Some of the famous brand endorsers are Sunil Gavaskar, Mohammad Azharuddin, Rahul Dravid, and Virender Sehwag.
Below is a full list of all the former and current professional players that have used/use/promote SG bats:
Shane Watson
Younis Khan
Hardik Pandya
Krunal Pandya
Mayank Agarwal
Umesh Yadav
Jasprit Bumrah
Rashid Khan
KL Rahul
Hardik Pandya
Cons
As mentioned above, some SG bats fail to meet the prescribed dimensions that international cricket laws state. Regardless of the bat is for commercial use or for non-professional games, the dimensions of a bat should be strictly followed for consistency.
Some sellers/advertisements of the bats also often list it as being made of Kashmir or English willow even though it isn't. Other than misleading, it gives the buyer a false sense of assurance.

B. Kookaburra Ghost 300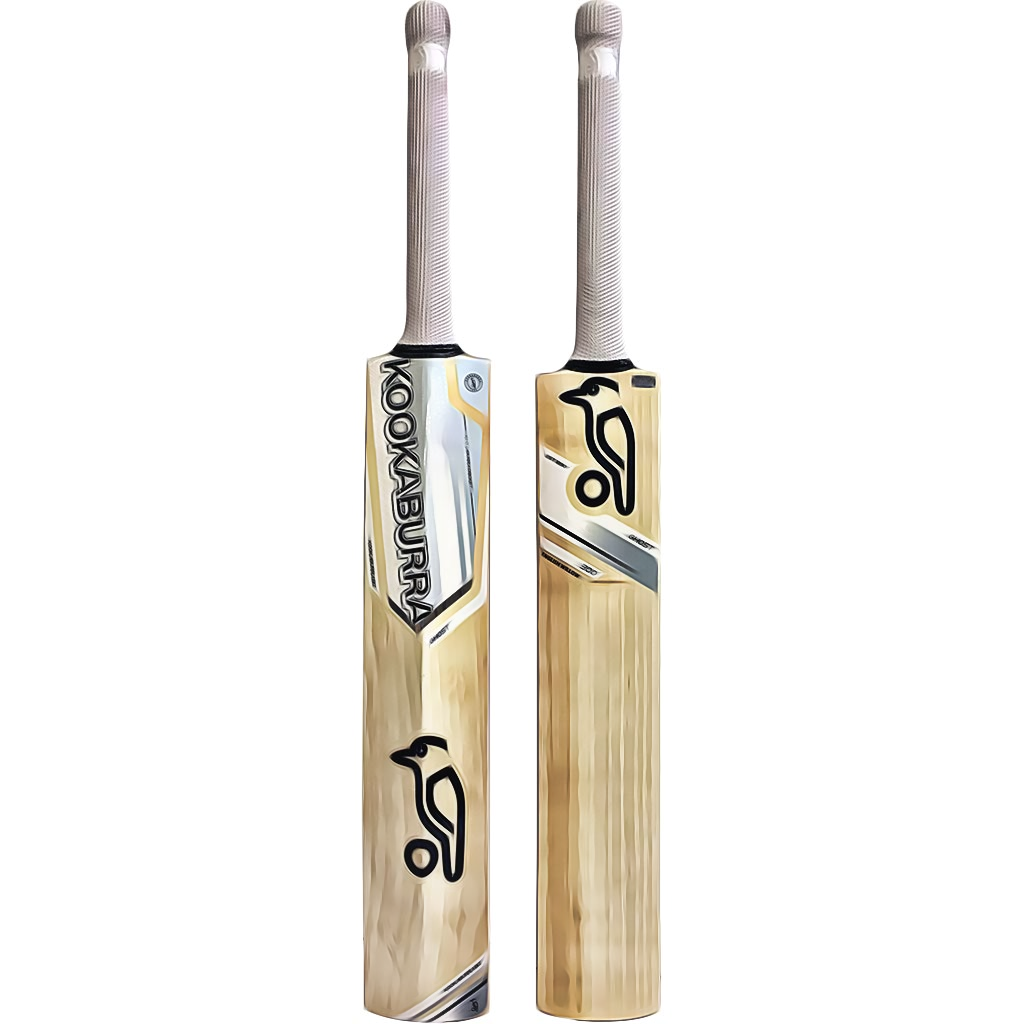 Price
The Kookaburra Ghost 300 costs around ₹ 11,199. Not bad for a mid-tier bat.
Materials
The bat is created with unbleached, Grade 2 English willow and has around six to nine clear grains. The handle is oval-shaped, giving you a firmer grasp on the handle. It is made of a 12-piece Sarawak Cane which gives a "softer" grip. It is also wrapped in 'Octopus Grip' allowing you to have a hold of the bat no matter the speed and strength of your swing.
Measurements
Kookaburra bats are short handle bats, and the Ghost is no exception to this rule. The handle measures around 284mm, allowing for great control of swings. The blade is 610mm long, maximizing striking probability. The entire bat measures 894mm, one of the shortest bats available in the market.
Handling
The bat's short handle and excellent profiling make it look heavier than it really is - it only weighs around 1.19kg to 1.2kg. The swell of the blade is located near the centre emphasizing powerful strikes. It also helps in the distribution of the weight across the bat.
The bat is full-profiled, there is very little concaving. This means that you do not need to hit the ball as hard compared to other bats.
Availability
The bat is mostly available in online shopping websites since the main production facility is located in Australia. It is also sold in stores but the amount is far less than those sold online.
Popularity
Despite the bat not being readily available, there are numerous professional players who use the Kookaburra Ghost. Some of these players are Nathan Lyon of Australia, Liam Dawson of England, and Chris Morris of South Africa.
Cons
The bat, for its price, is made of a fairly good grade of willow. However, this means that the bats need to be knocked-in before use. This process takes longer for this bat, which isn't really a negative aspect, but seeing as that you would want to use the bat immediately and start playing, it might as well be considered as one.

C. Final Comparison
Both bats are at 'opposite ends of the spectrum' with one being the high-quality, expensive one with the other one being the 'poor man's bat' (not literally, but in a sense because of its extremely low price). As usual, if the price isn't that much of an issue, then go with the SG cricket bat since it offers the best value for money. It also is more resistant to wear-and-tear given its high-quality of materials.
There are no downsides to the SG cricket bat other than its price. As for the Kookaburra cricket bat, it's a decent one but don't expect too much from it. It gets the job done (meaning that if you want to play club or casual cricket, then this bat is fine) but anything more than this, the bat could potentially break, crack, or even get destroyed.