CW vs Sunley Cricket Wicket
Two cricket wickets ideal for casual games
A. CW Professional Cricket Match Wicket Set with Stumps Bails Stand Base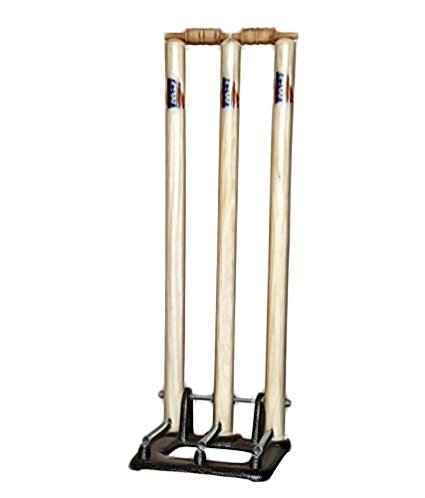 Price
The CW Professional Cricket Match Wicket Set costs ₹ 1,799.00. It is cheap for a wicket set to have that price but it is very ideal to have for junior cricket matches. Though this cricket wicket has 'professional' in its name, it is not used in professional matches.
Materials
This wicket is comprised of wooden stumps, wooden bails and a heavy-duty base spring stand to hold the entire set. The stand's purpose is to make it easy to assemble the wicket quickly. The stumps are made of Ash wood while the bails are made of any common wood. Keep in mind that you should not bowl with too much force. It can damage or break the stumps.
Transporting this cricket wicket set can be hard since the stumps are made of wood plus the iron base.
Size
The wooden stumps of this set measures 28 inches long. The spigots of the bails also have the exact measurement whereas the longer spigot is 3.49cm long while the shorter spigot is 2.06cm long.
Best Suited For
The wicket set is ideal for club, junior and practice matches. You can also use it for casual and friendly matches. To prevent the cricket wicket from being damaged or broken, slow balls should be delivered.

B. Sunley Plastic Wickets Set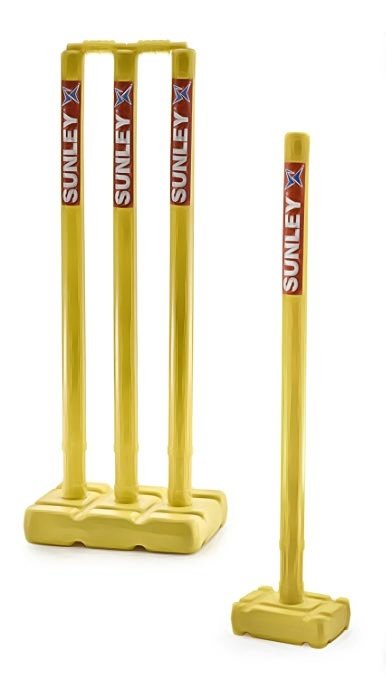 Price
The Sunley Plastic Wickets Set costs at an affordable price of ₹ 1,499.00. Since this product is made of plastic, it costs less. It is perfect for your budget and recommended for non-professional cricketers.
Materials
The entire set has three stumps, two bails and one base. It is made from good quality PVC plastic. However, this can be a problem when a powerful delivery is made by a bowler. It can break the wicket easily which can affect the flow of the match. A tennis ball is highly recommended to use for the match if you're going to use a plastic wicket.
The wicket is lightweight which makes it easy for you to carry it in your cricket bag. The set also has an extra stump in case if one of the stumps is broken.
Size
Sunley cricket wicket's stumps and bails have the perfect measurement. Each stump measure 71.1cm long with a diameter of 3.62cm. The bails have a combined measurement of 10.95cm whereas the longer spigot measures 3.49cm and the shorter spigot is 2.06cm.
Best Suited For
This plastic wicket set is perfect for casual and non-professional games played in school and outdoors. You can also use it in your backyard. It is also a good set to use for young children who wants to play the sport. To maintain the durability of the wicket, the bowler must bowl carefully.
C. Overall Comparison
Both wicket sets are ideal for non-professional games and they are affordable. Sunley cricket wicket has cheaper price and lighter than CW. However, since it's made of plastic, it can be easily damaged with fast and powerful bowls. CW cricket wicket's key feature is the iron base. You don't have to put the stumps back into the ground once it got hit by the ball.
It depends on which of the two you prefer especially for the type of game that you will play.