Sixer vs Sunley Cricket Wicket
Two family-friendly plastic wicket sets made for casual games.
A. Sixer Plastic Cricket Stump Set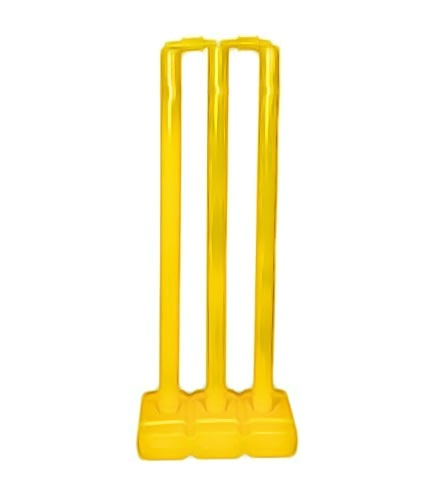 Price
This product comes in a very reasonable price which costs ₹ 799.00. All items in this wicket set are all made of plastic which is why it is cheap.
Materials
The stumps and bails are made of plastic material. You can extend the span of its usability if you will give proper care to this product. A cricket ball travelling at high speed is not suitable for this type of wicket. Slow balls are ideal for this wicket since you are able to dislodge the stumps from the base easily.
A tennis ball is highly advisable to use for this product. An authentic cricket ball is definitely not allowed to use because it can easily damage the stumps.
Size
The stumps measure 70.5cm long and have a diameter of 3.60cm. The bails are close to the actual measurement: the longer spigot is 3.47cm long, the shorter spigot measures 2.05cm long and the barrel is 5.38cm long.
Best Suited For
The Sixer wicket set is highly recommended only for casual and recreational games. It is also used for bowling practise if a bowler wants to improve his or her bowling style. You can use it indoors or outdoors. Again, you can only bowl using a tennis ball. A wind ball is also suitable for the wicket.
B. Sunley Plastic Wickets Set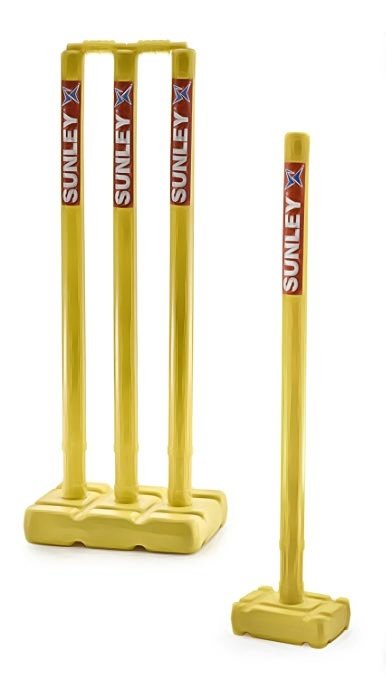 Price
This product only costs ₹ 1,499.00 since it is made of plastic material. It is recommended for casual games played with friends or family. It doesn't restrict you from using it indoors. This product is valuable for your money and designed for those who want to play the sport for fun.
Materials
All of the items in this cricket set is made of good quality PVC plastic. The material makes this product lightweight and easy to carry in your duffle bag. However, the wicket is only ideal for slow balls so that you can maintain it in good shape and use it for a long time. A wind ball or a tennis ball is advisable to use when bowling.
The product's items include three stumps, two bails, and one base. To save time, a base is provided so you don't have to impale the stumps in the ground. It can also damage and stain the stumps if you're going to plunge it in the soil. An extra stump is also provided as a replacement when one of the stumps is missing or damaged.
Size
Each stump has the exact measurement. They measure 71.1cm long with a diameter of 3.62cm. The bails also have the proper measurement. The longer spigot measures 3.49cm long while the shorter spigot is 2.06cm.
Best Suited For
The Sunley wicket set is recommended for casual and non-professional games. You can use it both indoors and outdoors. You can play it at any suitable place for the sport. This product is designed for youth and adult alike so you can use it if you're playing with your family.
C. Overall Comparison
The Sixer wicket and Sunley wicket set have similarities like being fragile if a cricket ball is used for bowling. They are both family-friendly products and ideal to use in casual and recreational games. The two products are designed to use for fun and definitely not for professional cricket matches.
Sunley wicket set has a bonus feature which is the extra stump. Meaning, you don't have to buy another set, in case one of the stumps is damaged or lost.