Jaina vs Cosco Cricket Balls
Jaina vs Cosco Cricket Balls
Both made for tournament matches, both made of quality materials, both made to be used in tournaments and practice matches.
A. JAINA Cricket Balls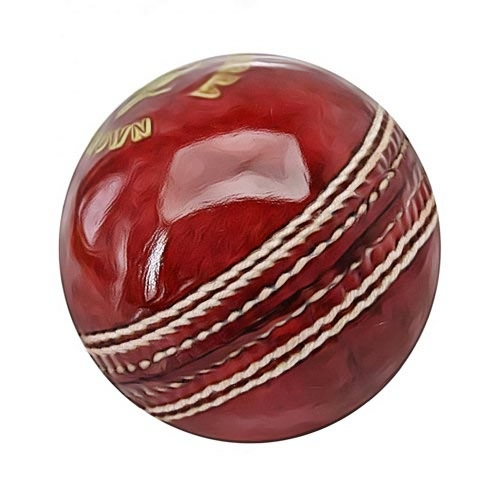 Cost
A single JAINA Tournament Series 2pc Hand Stitched Leather Ball costs ₹ 3,400 while a 12-piece set costs ₹ 31,199. A fairly reasonable price given that this type of cricket ball is used in professional Test cricket games and in practice games. This specific brand of cricket balls is also the only one that comes in a set of 12.
Weight
This cricket ball weighs in at around 158.76g, an average weight for a cricket ball. It is about as heavy as a lemon, making it easy to lift and throw. Since it is also around the weight that a cricket ball should be, it eliminates doubts when used in semi-professional games and even in practice games.
Measurement
The ball has a circumference of 226mm and is within the allowed dimensions that a cricket ball should have. It also means that it allows bowlers to grip the ball properly and doesn't require much strength to keep under control. It also allows them to bowl different styles rather easily.
Material
The cricket ball is made of the best quality of leather available meaning that the ball won't lose its shape as quickly and can retain its surface longer. The inner core is made of top quality Portuguese cork and seasoned naturally, giving the ball just the right weight. It is then wrapped in 100% wool, giving it the right amount of bounce.
Purpose
The ball is made primarily for club matches (domestic cricket matches) but can be used in school tournaments, U19 tournaments, and for practice matches making it one of the most versatile brands of cricket balls.
B. Cosco County Cricket Ball Alum Tanned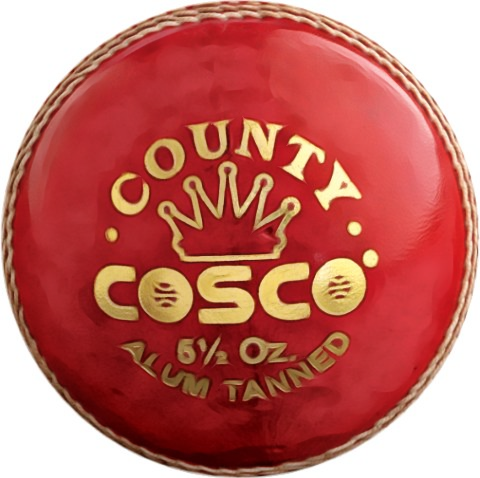 Price
The Cosco County Cricket Ball costs ₹ 12,499.00 and is actually a really good deal since it is sold in packs of six. Being manufactured in India, you can assure yourself that quality isn't going to be a problem.
Weight
The ball weighs about 160.17g pushing the limits of a cricket ball's weight. Though it is a bit on the heavy side of the scale, the ball can still be easily thrown and guided. It also requires a bit more power in the throw, but it will also need more power from a batsman, making it a perfect counter to a hard-hitter.
Measurement
The ball's circumference measures 228mm, a millimetre short of the maximum allowed dimensions for a cricket ball. The bigger circumference will need a bit more grip to handle but make no mistake: a proper delivery from this ball will definitely get you a wicket.
Material
The ball is made with a wooden cork centre wrapped in 100% wool, then by high qulaity leather and stitched together using nylon thread. The materials used in making this ball give it a little extra bounce on the pitch, making it easier to hit the stumps or get the batsman to duck.
The ball is also tanned with alum (aluminium salts), making the ball stiffer and firmer. It also allows the leather to age better compared to non-tanned balls.
Purpose
The ball is mainly used in domestic cricket leagues but is also used in school tournaments and practice games.
C. Overall Comparison
The JAINA cricket ball favors fast-pacers given its lighter weight while the Cosco cricket ball favours spin-bowlers since it has a little more bounce in it. The JAINA ball also has needs less strength to be thrown compared to the Cosco ball, but the latter makes it harder for the batsman to score boundaries.
Sure the lighter JANIA ball may be easier to handle but at the end of the day, it's all about preventing the batsman from scoring runs. Taking this into account, the Cosco ball is better in doing this job: it needs more power to hit, it's bouncier meaning the batsman will have difficulty predicting the trajectory, and adding spin to it will make it even more unpredictable.

DSC vs Skera Cricket Gloves
A professional-calibre wicket-keeper glove versus a casual user's glove. A. DSC Intense Speed Cricket Wicket Ke...
In-Play Betting Explained
Find out what is in-play betting and how to wager with this kind of betting. Know the best website you can go to...
Online Casino Table Games
Learn how different table games you can find in online casinos work. Find out how you can play them and where yo...
Online Casino Live
Learn what live casinos are and how they work. Find out the common live casino games and where you can play them.
DSC vs Klapp Cricket Helmet
Two fairly expensive cricket helmets with very different safety features. A. DSC Scud Cricket Helmet Medium (Sk...