A short, comprehensive review of the two most known cricket equipment suppliers: Sanspareils Greenlands versus Gunn & Moore.
A. SG Cricket Bats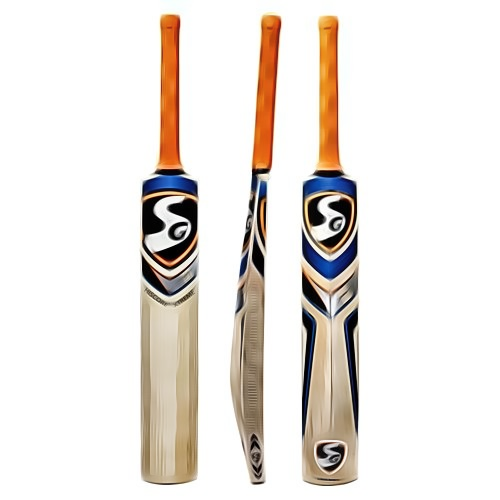 Price
The SG Hi-Score Xtreme bat costs around ₹39,999. It may be expensive but it is worth the price. Cheaper bats are used for children's games. As the bat's price increases, it usually indicates that the user is more mature.
Materials
This specific type of cricket bat is made of Grade 1 English willow, sounding off a distinct 'knock' when hit by a cricket ball in its 'sweet spot' which is at the centre. It's there mainly because the swell is positioned at the middle of the bat for precise hitting.
Measurement
For a full-size bat (which is recommended if your height is six feet and above), the bat's overall length is 876 mm, with the handle measuring 318 mm and the blade measuring 559 mm. The spine ends in the middle of the blade making the bat best suited for slow- to medium-paced bowling. The handle is in a circular shape and has a short stump at the bottom, presumably so that you won't let go of it when swinging in full force; it also tells you where the end of the handle is without having to look at the handle itself.
Lower range SG bats often do no follow the prescribed measurements: incorrect edge dimensions, narrower face, and a swell that is not evenly distributed on the back of the bat.
Higher range SG bats need to be follow them because they follow certain specifications often set by professional players themselves, and also because these types of bats are used in the professional setting.
Handling
SG bats tend to be suited for slow- to medium-pace bowling, making them suited for stroking or precision hitting as opposed to strong hitting. Gripping the handle can be a little difficult because it is round; this tends to not give a definite 'profile' for you to hold as opposed to an oval-shaped one.
The weight of SG bats are usually balanced all around. The entire weight is focused in the middle of the bat, making for excellent handling capabilities. Holding the bat with a single hand doesn't put a too much stress on it, emphasizing the balance that it boasts.
Regardless whether the bat is low or high grade, this is SG's trademark - bats that are balanced and are made for precision strikes.
Availability
Almost all SG bats are readily available in online shopping websites and in-store. High-end bats have to often be ordered in advance given that they are manufactured to certain specifics and standards.
Some bats that are delivered from overseas have a shipping fee which is often at ₹65 or above, depending on the price of the bat.
Popularity
The SG brand of cricket bat is popular mostly among Indian players. Because of it being produced and marketed mainly in India, the exposure it gets there is higher than other brands being imported into the country. And because most Asian players use this brand, it is also popular in the region that other brands.
There are numerous professional players, both retired and active, that use SG cricket bats. Some of the famous brand endorsers are Sunil Gavaskar, Mohammad Azharuddin, Rahul Dravid, and Virender Sehwag.
Below is a full list of professional players that use SG bats:
Shane Watson
Younis Khan
Hardik Pandya
Cheteshwar Pujara
Shakib Al Hasan
Mominul Haque
Liton Das
Parthiv Patel
Rishabh Pant
Amit Mishra
Prithvi Shaw
Vinay Kumar
Suresh Raina
Danushka Gunathilaka
Sadeera Samarawickrama
Dhananjaya de Silva
Kamindu Mendis
Karn Sharma
Gautam Gambhir
Krunal Pandya
Mayank Agarwal
Solomon Mire
Kieran Powell
Umesh Yadav
Mohammed Shami
Jasprit Bumrah
Rashid Khan
KL Rahul
Hardik Pandya
Hashmatullah Shahidi
Cons
As mentioned above, some SG bats fail to meet the prescribed dimensions that international cricket laws state. Regardless of the bat is for commercial use or for non-professional games, the dimensions of a bat should be strictly followed for consistency.
Some sellers/advertisements of the bats also often list it as being made of Kashmir or English willow even though it isn't. Other than misleading, it gives the buyer a false sense of assurance.
B. GM Cricket Bats

Price
The GM Diamond L540 DXM Player Edition costs around ₹41,000. Though it costs a fortune, it is definitely worth the price. These bats are expensive because they are made primarily in England unlike other cricket bats mostly made in India. It also is one of the brands that cater to all-round players.
Materials
GM bats are made of either Grade 1+ English willow, the highest grade of wood available whioch is also used for higher tier bats, and Kashmir willow, which is used for the low to medium tier bats. Higher tier bats have a 'quality treble spring multi-piece cane' handle, allowing for greater feel, flex, and maximum control. It also uses the companies' signature 'Terrain grip' which allows for maximum grip in all batting conditions.
Measurement
Most GM bats have a shorter blade and a longer handle allowing maximum swinging power. Handles are usually no longer than 310 inches while the blades are 540 mm. Unlike other brands, GM bats feature a full, contoured spine - no concaving - and runs from the shoulder to the toe. The swell on most GM bats are 62 mm and the edges are 36 mm - they emphasize strong swings.
The face/front of the bat has an F4.5 profile, showing very minimal concaving. Hence, the 'sweet spot' of the bat is in the centre to the mid-toe; hitting a ball here with strength will ensure a boundary.
Handling
The bat boasts an easy pick-up, meaning its weight is easily distributed across the bat. GM bats usually weigh around 1.13 kg making them one of the lightest bats in the market. The shape of the handle allows maximum grip. The stub at the end of the handle isn't as pronounced, making it almost unnoticeable. A strong swing with GM bats is done with minimal effort since they are lightweight and have a larger area for contact.
Availability
GM bats are available in online shopping websites and in-store, though the higher tier bats could be harder to come by since they are sought after and preferred by most compared to the low to mid-tier ones.
Bats can be shipped overseas, but the shipping fee can be fairly high, ranging from ₹65 to ₹399.99 and depending on the bat's tier.
Popularity
GM cricket bats are mainly produced and sold in the United Kingdom, in other European countries, and in Australia. Also, because most players who use this brand are from these countries, exposure to other countries is limited. Often, this only happens when an international game is played or a player endorses the brand.
The players that endorse and use GM brand are Ben Stokes, Quinton de Kock, and Ross Taylor. These players use these types of bats because they are hard-hitters, able to score sixes at will.
Cons
GM bats, in general, have one downside to them (especially for the higher tier bats) - they cost a hefty price. Compared to other high-end bats of different brands, it costs ₹2,000 to ₹3,000 more.
C. Final Comparison
The SG Hi-Score Xtreme costs significantly less than the GM Diamond L540 DXM Player Edition mainly because of the materials used in manufacturing. The SG bat favours precision hitting while the GM bat favours powerful strikes that aim for boundaries.
The GM bat is lighter than the SG bat despite it being primarily for power-hitting. The SG bat has a larger blade than the GM bat, which means that the ball has a higher chance of making contact even in a less-powerful swing; the GM bat, on the other hand, has a wider 'sweet spot' allowing for greater focused hits.
Overall, the SG Hi-Score Xtreme's price is manageable given this is mainly used for slow- to medium-paced bowling where not a lot of strength is needed. The GM Diamond L540 DXM Player Edition costs more but has a higher chance of consistently knocking fours and sixes.

DSC vs KD Cricket Helmet
Two fairly inexpensive cricket helmets best used for the nest and practice matches. A. KD Cricket Helmet Stainl...
Online Casino Table Games
Learn how different table games you can find in online casinos work. Find out how you can play them and where yo...