Comparing two inexpensive bats: SS Blaster Exclusive Edition and the GM Sting.
A. SS Blaster Exclusive Edition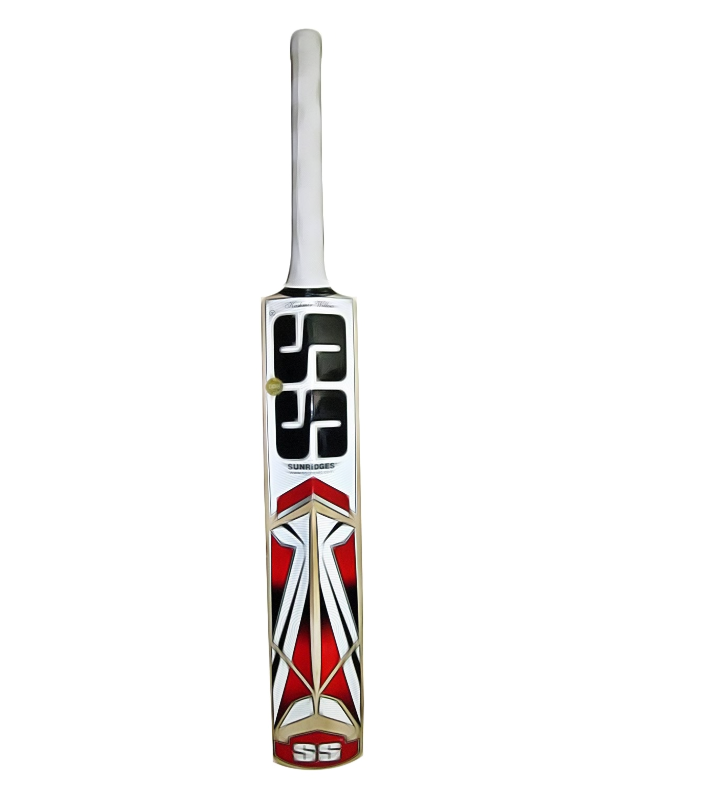 Price
At ₹ 1,600, this bat is one of the cheapest in SS' inventory. It is part of the SS Range type of bats, meaning that these bats are inexpensive and usually cater to beginners or casual players of the sport. Its price makes it easily replaceable if damaged and fairly easy to obtain. Often, discounts are also applied to the bat, making it even more affordable.
Materials
The bat is made of 5th Grade Kashmir willow. It is on the low-end of the wood scale for cricket bats, but it often comes in six to eight grains making it fairly reliable. The sticker on the back is part embossed, meaning that you can feel some parts of the sticker.
The grip is wrapped in a generic type of rubber which could make the bat a little difficult to grip with sweaty hands. The handle itself is often made of different types of wood and does not come with a cork centre. You may find it weird to use since vibrations caused by batting are transferred to your hand instead of being absorbed by the handle.
Measurements
With a 35mm edge and a 61mm spine, the blade is one of the low-end bats that are designed for power. The swell is located around the centre emphasizing precise hits from medium-paced bowlers.
The bat also boasts a shorter handle at 292mm while the blade is 558mm, longer than most bats. This is to maximize the area of contact a ball can make with the bat. It is also very, very light, weighing only 0.95kg.
Handling
The bat is fairly easy to pick up and handle mainly because the swell is in the centre. It helps distribute the weight across the entire blade, and since the bat is very light, it takes little effort to swing.
Availability
Because the bat is sold at an affordable price, getting your hands on one isn't that difficult. It is readily available in-stores, while online shopping websites seem to never run out of bats to sell.
Popularity
The bat is not really used in professional games seeing as the materials are cheap. However, some of the most skilled players and former greats use/used SS branded bats throughout their career. Players such as Sourav Ganguly, Virender Sehwag, Sachin Tendulkar, MS Dhoni, and Virat Kohli made use of SS bats during their games.
Cons
Since these bats are not necessarily of high quality, knocking in should be done prior to using it. These specific bats require more time for knocking in than usual. Even then, the chances of the bat breaking are high.
You should also be careful when ordering the bat online. Other sellers of this particular type of bat will say that it is made with Kashmir willow even though it isn't. The handle can also be a problem for some since it is thinner, so gripping it properly may be a problem. Using a second grip-sleeve is advised.
B. GM Sting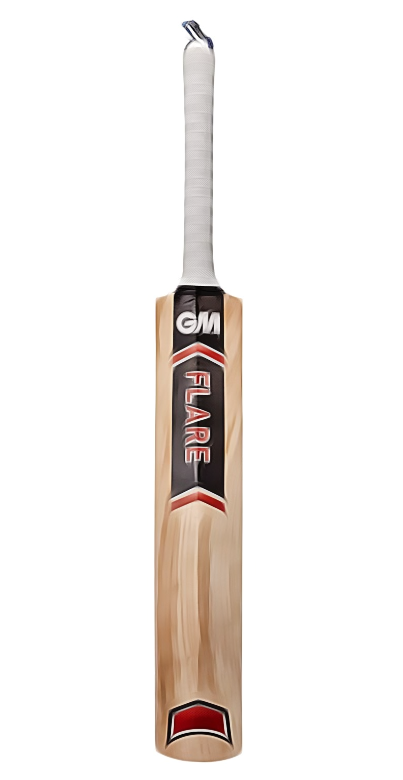 Price
Coming in at ₹2,200, GM's low-end bats are a steal for their price. These bats cater to beginners up until the semi-pro level of play; it may seem expensive for a beginner, but as you continue to gather experience, this bat will serve its purpose and may even be your go-to bat during local tournaments.
GM knows that this bat is one of the most used for beginners, so they also frequently give discounts further lowering the price. The lowest price given to this bat was at ₹1,300 so make sure you keep yourself updated so you can avail of this bat.
Materials
The bat's blade is made of Grade1 Kashmir willow while the handle is made of either white willow wood or cane. Given the price this bat sells at, quality is not a concern when buying this bat. The grip allows you to have a proper hold of the handle in all conditions; the handle is also fitted with a treble spring which absorbs vibrations when batting. The bat is also ready-to-use when purchased and is highly durable.
Measurements
The entire bat measures 848mm long with the handle and blade at 290mm and 558mm respectively. The handle is short allowing for greater control when making powerful swings. The spine runs from the shoulder to the mid-toe, emphasizing power. With edges measuring 32mm, the bat is made to withstand powerful swing-after-swing.
The bat is a bit heavy, weighing 1.3kg. This is exactly why the bat is suited for strong-hitting batsmen because they have the strength to score boundaries.
Handling
The bat is easy to pick up and use mainly because the spine helps distribute the weight of the bat across the blade. With the shorter handle, even close-to-body positioning of the bat isn't difficult.
Availability
This type of bat is available in-stores and can be ordered from online shopping networks. It may not be readily available since it one of the most sought after types of GM bats.
Popularity
With the bat being mainly used for beginners, it is rare to see a professional cricket player using it during practice let alone matches. There are, however, plenty of famous players who use/endorse the brand. Some players include Quinton de Kock of South Africa, Ben Stokes of England, and Travis Head of Australia.
Cons
There have been instances where the bat would break because it wasn't knocked in. This is despite it being advertised as readily available for use.
C. Final Comparison
With the two bats being relatively inexpensive, the question here isn't about cost but about value for money. The SG bat is mostly used for precise hits in medium-paced bowling while the GM bat is designed more for continuous boundaries. However, because of frequent discounts on the GM bat, it comes out as the better option between the two.

In-Play Betting Explained
Find out what is in-play betting and how to wager with this kind of betting. Know the best website you can go to...
DSC vs Klapp Cricket Helmet
Two fairly expensive cricket helmets with very different safety features. A. DSC Scud Cricket Helmet Medium (Sk...
SG vs GM Cricket Bats
A short, comprehensive review of the two most known cricket equipment suppliers: Sanspareils Greenlands versus G...
SS vs GM Cricket Bats
Comparing two inexpensive bats: SS Blaster Exclusive Edition and the GM Sting. A. SS Blaster Exclusive Edition