DSC vs Skera Cricket Gloves
DSC vs Skera Cricket Gloves
A professional-calibre wicket-keeper glove versus a casual user's glove.
A. DSC Intense Speed Cricket Wicket Keeping Gloves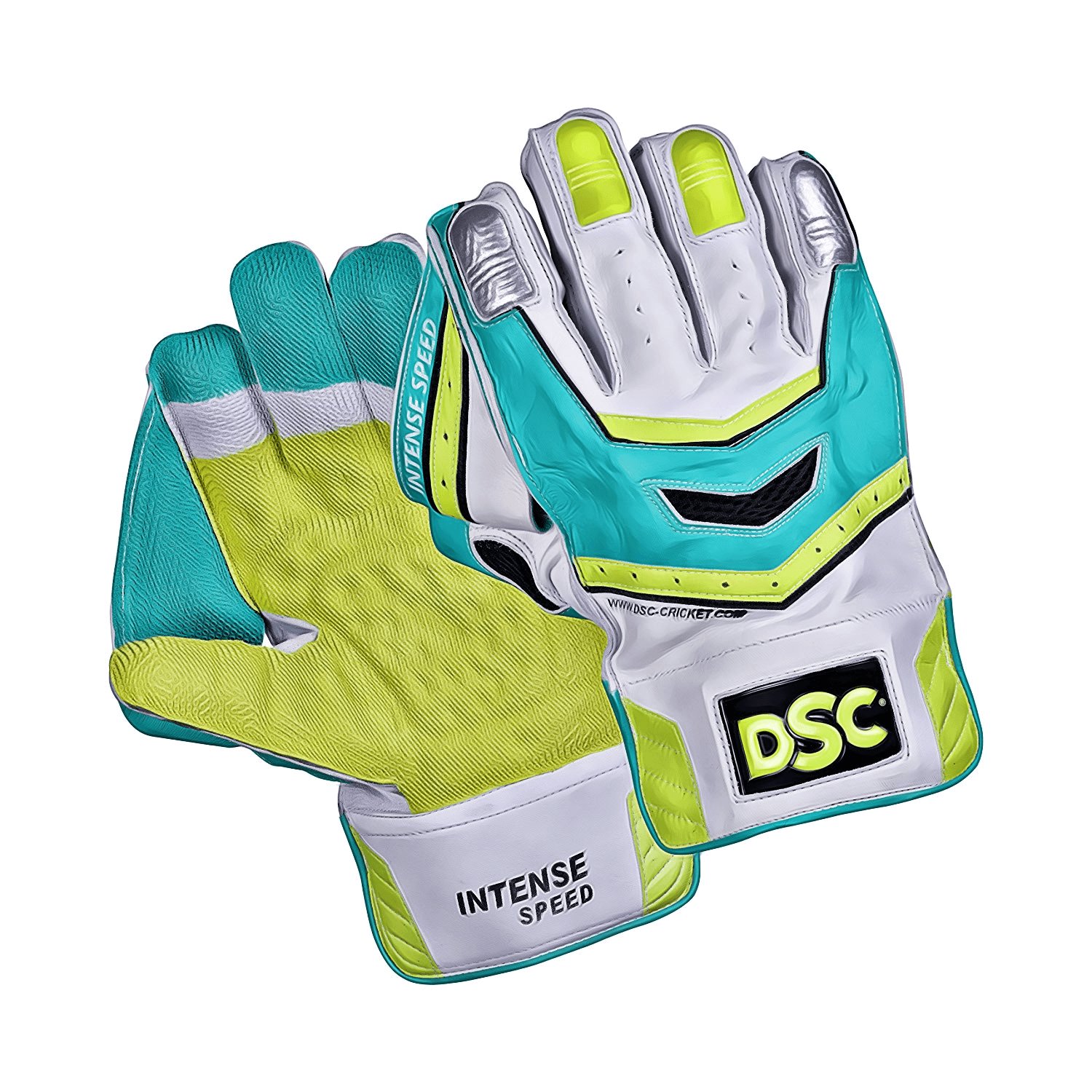 Price
The DSC wicket-keeper gloves cost ₹ 3,079, which really isn't that expensive. The price is fairly cheap despite the glove being made from fairly high-quality materials.
Materials
The entire glove is made from Aniline Leather. This type of leather prevents dyes (especially since gloves are coloured) from disrupting the leather's natural texture. The outer part of the glove is made from fine leather, giving it a smooth appearance. The palm part of the gloves has a thin rubber lining, adding to the grip and comfort factor of the glove. The gloves' cuffs are lined with towels that help absorb sweat.
In addition to this, the cuffs also are also padded with a thin layer of foam which add to the comfort factor. The 'web' between the thumb and index finger is sewn directly into the seams. This feature prevents the ball from falling once caught and adds to the 'security' of the glove.
The cuffs, in general, tend to be thick. This is mainly because they add protection to the players' wrists in case a ball hits that area.
Weight
The gloves weigh 290 g which is surprisingly light. This, in theory, could help the wicket-keeper reach for a ball that could go past him.
Size
The glove is made for use by an adult male. Hence, it is not advisable to be used for any other person since it may fall off. It may also not be able to protect the user's hand as intended.
Design
The glove makes use of a high-contrast colour combination, making it very visible. There are drawbacks to this: when playing on a sunny day, the colours of the glove may be too reflective and hurt the eyes a bit.
Popular Players
Some of the popular players who use the DCMC brand are:
Colin Munro of New Zealand,
Adil Usman Rashid of England, and
Dwayne John Bravo of the West Indies

B. Skera E3136815 Rookie Wicket Keeper Gloves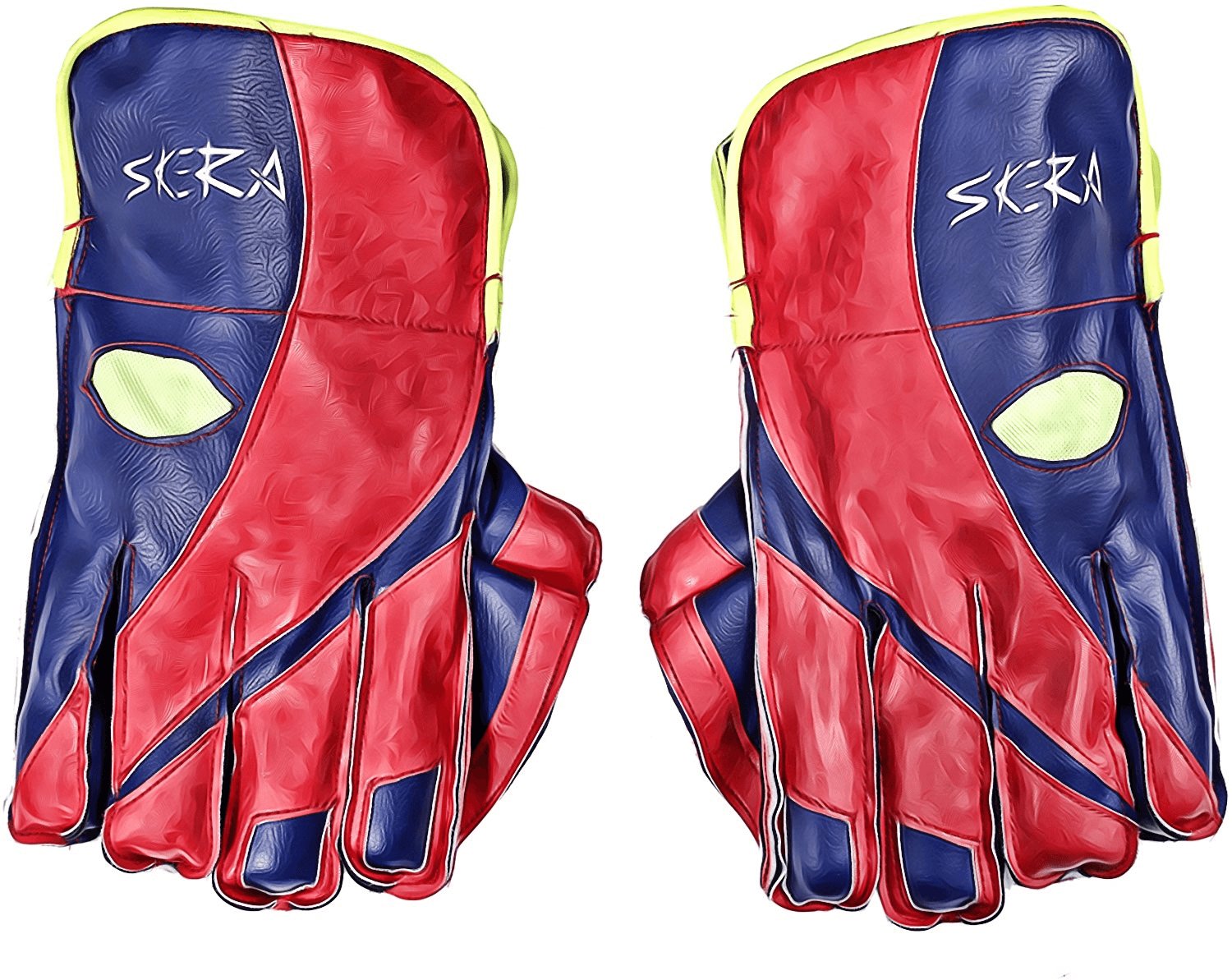 Price
The Skera cricket gloves cost a very affordable ₹ 825. The price doesn't reach ₹ 1,000 mainly because the gloves are meant for casual games and beginners. Also, the materials used to make the glove are somewhere on the low-end.
Materials
Similar to other wicket-keeper gloves, the fingertips have an inner-plastic protective casing that protects from broken fingernails and broken fingers. However, the plastic used isn't really meant for speeds of 100 kph, let alone 80 kph.
The leather used to make the glove is low- to medium-quality. This means that the glove isn't meant to last a long time. However, if all you are going to play are casual games on a weekly or monthly basis, then these gloves will suit you just fine.
There isn't that much padding besides a very thin layer of foam, so expect some soreness after playing. Also, since there is little padding, your hands will sweat more than usual.
Weight
Since the gloves are made from relatively cheap materials and don't have that much in them, they aren't really that heavy.
Size
The gloves are made for teens who wish to experience playing a cricket game at least once in their lives. It can also be used for casual players who play less frequently.

C. Final Comparison
The deciding factor here is the glove's purpose. Are you going to play for a local team or very frequently or are you that kind of player that plays only when he feels like it? The DSC cricket gloves are meant to be used for players-players while the Skera cricket gloves are meant to be used by 'players'.
Online Casino Live
Learn what live casinos are and how they work. Find out the common live casino games and where you can play them.
Outright Betting Explained
Learn what outright betting is and why it matters. Find out where you can go to bet on the outcome of your favor...
DSC vs Skera Cricket Gloves
A professional-calibre wicket-keeper glove versus a casual user's glove. A. DSC Intense Speed Cricket Wicket Ke...