Adams called Black Caps captain a Mankad after recent match ended
Former South African spin bowler Paul Adams criticized New Zealand captain Kane Williamson after he did not walk off during a dismissal in their recent match on Wednesday. The Black Caps won by four wickets with three balls left.
The dismissal happened during the 38th over when Proteas spin bowler Imran Tahir delivered a ball and Williamson had not batted it. Proteas wicket-keeper Quinton de Kock then caught the ball behind Williamson. However Tahir appealed to the umpire that the ball had caught an inside edge of Williamson's bat but it was judged to be not out. Williamson and New Zealand all-rounder Colin de Grandhomme scored an unbeaten ton afterwards which brought their score up to 245 over 6.
However, replays of the match showed that the ball Tahir delivered had struck the inside edge of Williamson's bat. Adams called on to Williamson's integrity on Twitter asking if the Black Caps captain was a Mankad.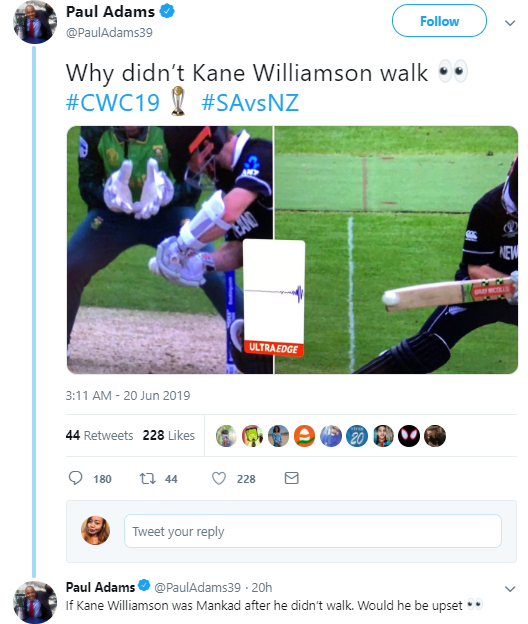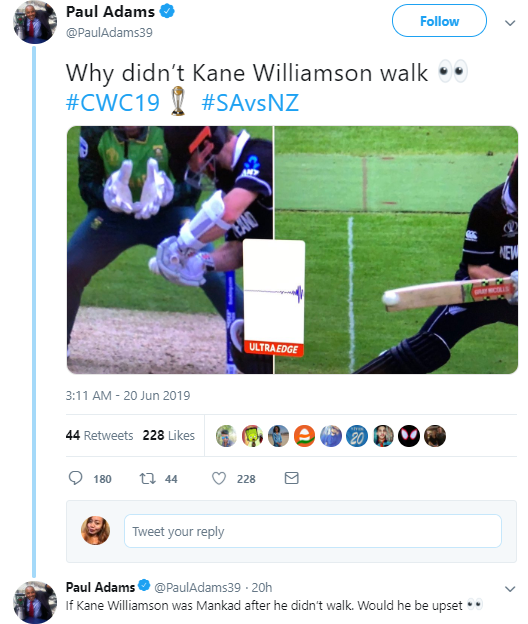 Meanwhile, South Africa captain Faf du Plessis was not aware of what happened until after the match. However he said was not worried about it because he trusted the judgement of de Kock who was near what happened.
"We aren't aware of it. I think I was at long on at the time, and Quinny (Quinton de Kock) is the closest to the action. He's always my go to man," said du Plessis.
"I just thought it was a plain miss. I just heard about it now at the post match that he said he had a nick on it. But even Kane said he didn't know he had to fine tune it. He would have referred it. But that's not where the game was won and lost."
South Africa's match against New Zealand became their fourth 2019 ICC Cricket World Cup loss. This meant their chances to reach the semi-finals are low because they currently stand at eighth place in the tournament.
If you want to know how the World Cup works and the other teams that are competing in it, you can check out Betwala's detailed explanation.
READ MORE: What is the ICC Cricket World Cup?