SG vs Shrey Cricket Helmet
SG vs Shrey Cricket Helmet
Two similarly priced helmets, two different styles of protection.
A. SG Aerotech Cricket Helmet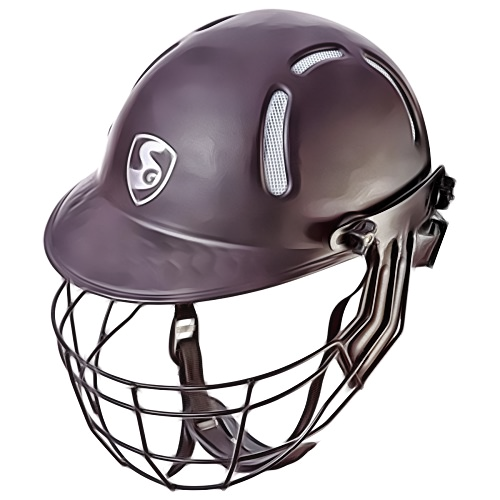 Price
The SG Aerotech Cricket Helmet costs ₹ 1,899. A fairly cheap helmet, it gets the job done. The materials used to make this helmet are average but used to its strength, making the helmet look like its made of expensive materials.
Material
The helmet itself is made of nylon, high-impact material making it highly resistant to impacts. It is enforced with a Polystyrene mesh on the inside, making it even more durable. The inside of the helmet is also fitted with a sweat absorbent fabric so that sweat doesn't obscure your vision or affect your game.
This helmet also comes with a nape adjuster, further allowing the helmet to sit on your head without it having to fall off.
The visor is made of powder-coated steel-wire, giving maximum protection to the wearer and help avoid injuries. The Earpiece is also fitted with a protective material to help avoid injuries towards the ears. The visor is also in a net fashion, allowing air to flow to the batsman's face.
Comfort
With little to no padding, expect that this helmet will start to feel uncomfortable when out on the pitch for extended periods of time. There is a chin strap that prevents the helmet from falling off, but this could also add to the discomfort when playing long games.
Intended User
The helmet is intended to be used by adult males. It is not therefore advisable to be used by anyone else since the helmet may not fit or may be too loose. A tight or loose helmet cannot protect you from injuries as it does not wrap around the head properly.
B. Shrey Premium with Mild Steel Visor Cricket Helmet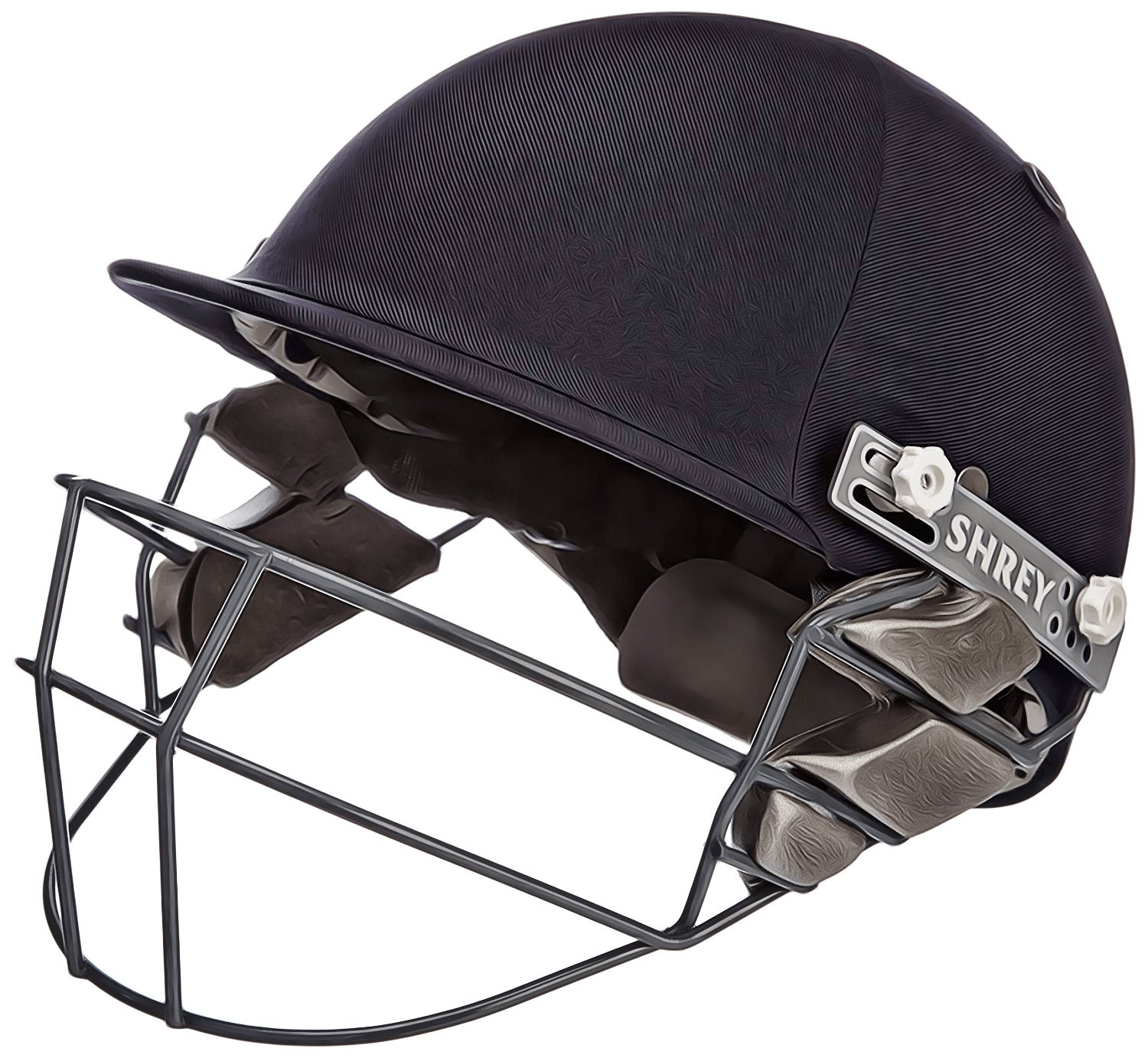 Price
The Shrey Premium with Mild Steel Visor Cricket Helmet costs ₹ 1,899. This is surprisingly cheap given that the materials used to make it are high-quality materials.
Material
The helmet itself is made of carbon fibre, a light and extremely strong material that is able to withstand extreme projectile speed. There are small supports inside the helmet that will prevent the actual helmet from touching your head so that the entire weight is scattered and so prolonged use won't be as painful.
The visor is made from iron, a light and strong metal. It extends all the way down to the chin and the ears. The ear guards are also covered with additional protection - a high density foam that helps absorb impact.
The helmet also has an adjustable and detachable nape guard. This feature protects the batsman from unseen throws and provides additional comfort. It can also be removed and washed since it absorbs sweat.
Comfort
As mentioned, this helmet has multiple features that make it easier for the batsman to see and play while protecting him from injuries. There is also sweat absorbing cloth all over the helmet that can also be detached. This helps the player focus on the game.
Intended User
The helmet is intended for use by an adult male. Therefore, it is not advisable that the helmet should not be used by any other person. Bigger helmets tend to fall down while smaller helmets don't exactly fit on our head - it just sits there. Either way, it is unable to do its job of protecting your head.
C. Final Comparison
Unsurprisingly, the Shrey cricket helmet comes out on top in so many categories - protection, comfort, safety features, durability, and value for money. It is made of a harder yet lighter material, it is comfortable to wear and use, it protects your head from nearly all angles, it's stronger and tougher because of the materials, and it is inexpensive (given the materials used, it should have cost almost twice as much).
What is a Casino VIP Bonus?
Find out what is a casino VIP bonus and why you need to take advantage of it. Know some of the best online casin...
In-Play Betting Explained
Find out what is in-play betting and how to wager with this kind of betting. Know the best website you can go to...
SG vs Spartan Cricket Shoes
Two high-end shoes made from the best materials but cost very differently. A. SG Ex-Treme Cricket Studs with Me...
DSC vs Klapp Cricket Helmet
Two fairly expensive cricket helmets with very different safety features. A. DSC Scud Cricket Helmet Medium (Sk...
SS vs GM Cricket Bats
Comparing two inexpensive bats: SS Blaster Exclusive Edition and the GM Sting. A. SS Blaster Exclusive Edition
Jaina vs Cosco Cricket Balls
Both made for tournament matches, both made of quality materials, both made to be used in tournaments and practi...