DSC vs Shrey Cricket Leagues
DSC vs Shrey Cricket Leagues
Both helmets are used in professional cricket games but cost different prices.
A. DSC Scud Cricket Helmet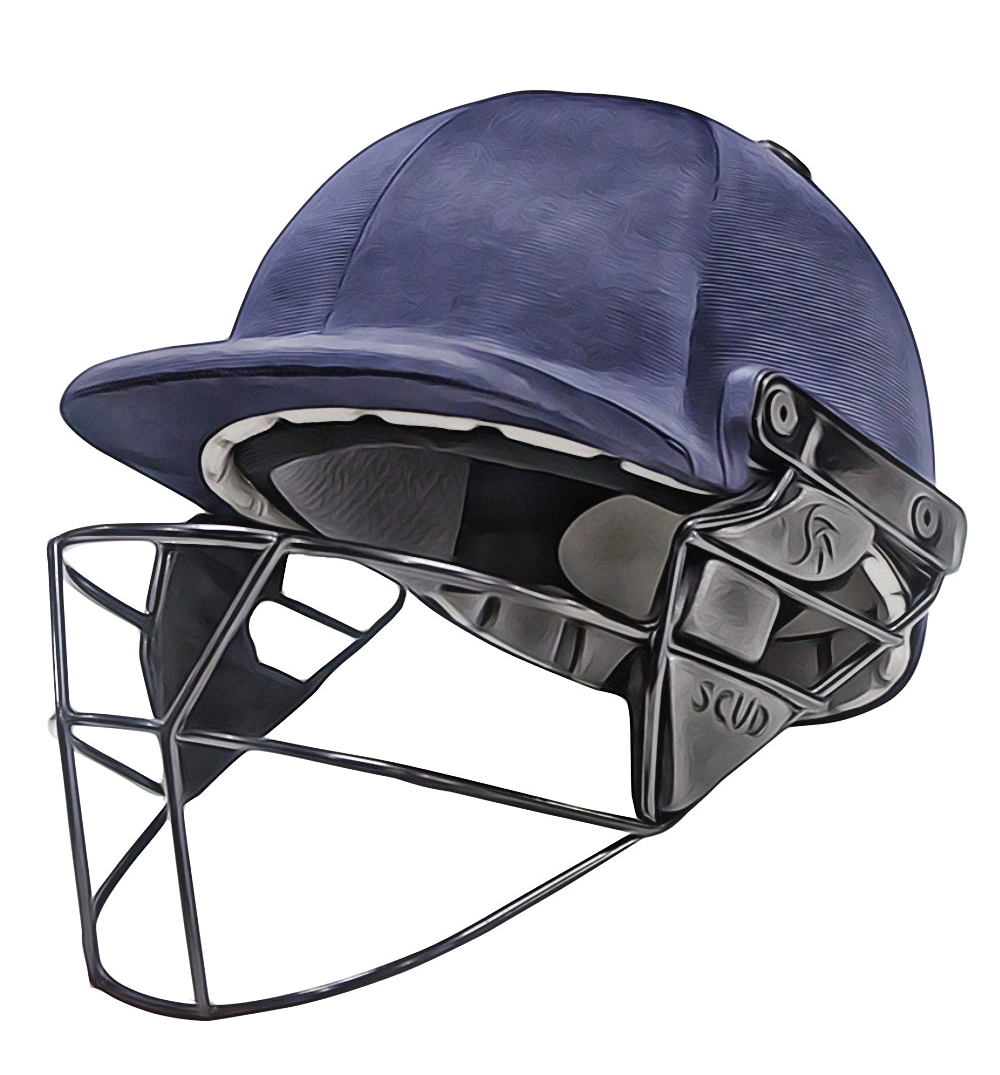 Price
The DSC Scud cricket helmet costs ₹ 3,749.00. It has a high price mainly because it is constructed with high-quality materials. The helmet also conforms to international rules about a helmet's safety standards because it is used in professional games. The helmet is also crafted with close attention to detail, making sure that the helmet does its job perfectly.
Material
The helmet's outer shell is made from poly-carbonate, an excellent impact-absorbing material that provides strength and durability. Its inner shell is moulded and padded with EVA foam that adds to the helmets shock-absorbing characteristics. Between these materials is a durable mesh-like material that allows air to flow freely; it keeps the head of the wearer feeling fresh even after prolonged use.
This helmet also features a removable sweatband for cleaning purposes. It also has built-in vents that aid in the air-circulation in and around the head. The helmet has a unique strap adjustment feature that allows it to fit the wearer perfectly.
The visor is made from stainless steel, a fairly strong material. It is also fully adjustable so it can protect your mouth and face better. It also extends to the ears and features a moulded ear flap made from EVA.
Comfort
The helmet, thanks to its various safety features and removable sweatband, feels comfortable to the wearer. The helmet is also surprisingly light, so wearing it doesn't put too much stress on your head and neck area. The visor also doesn't hit your neck area when looking down, which is a big plus.
Intended User
Since this helmet is being used in professional leagues, its intended users are adult males and females. Any size smaller will make the helmet useless because it won't be able to protect your head as intended and will also feel very uncomfortable when worn.
B. Shrey Sh1010004 Cricket Helmet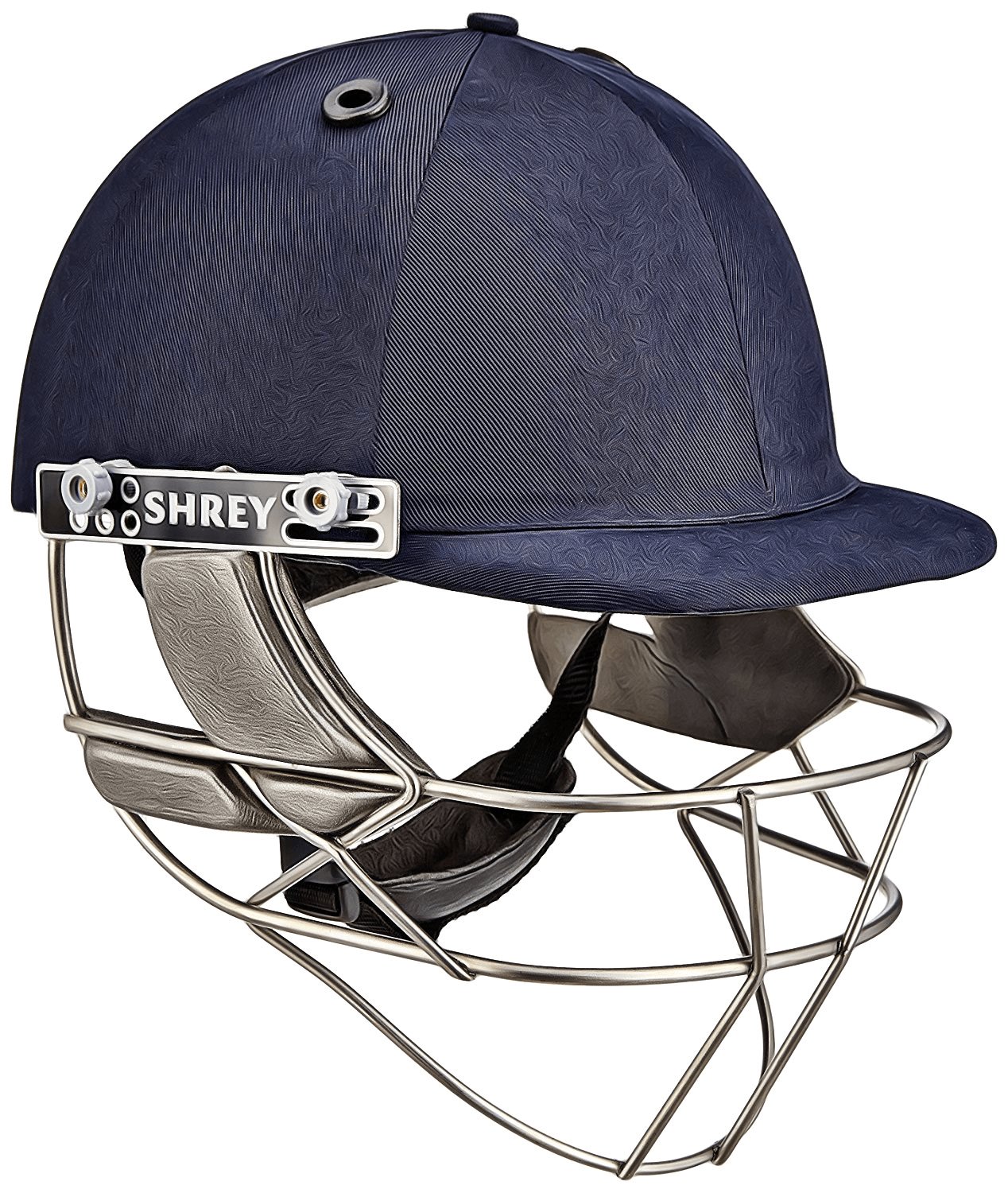 Price
The Shrey Pro Guard cricket helmet costs ₹ 5,999.00. It is relatively expensive for two reasons: the materials used are extremely high-quality, and this helmet is used mostly in professional leagues. This is also an indicator of the quality of the helmet itself (because professional league players will use nothing but the best).
Material
The outer shell of the helmet is made from ABS plastic and extremely impact resistant form of plastic. The inner shell of the helmet is made from a high-density foam which is both comfortable and strong. The two layers work by absorbing impact and then scattering the force across the multi-layered foam.
The helmet comes with a nape guard which protects part of the wearer's nape in case of a wild throw. The visor, unlike other helmets, is fixed. This prevents any sudden adjustments to the helmet while in-play, for example, where the batsman cannot notice this. However, it also adds some limitations to the batsman's head movements.
The visor itself is made of high-grade stainless steel which is a fairly strong metal. It covers the mouth and chin area from impacts, as well as the ears. It has ear guards that protect the batsman from accidental throws without affecting his hearing ability.
It also features a removable and washable sweatband, built-in ventilation holes for air circulation, and a fully adjustable chin strap.
Comfort
The helmet is very comfortable to wear. It feels like you're wearing a sports cap with a mouth-guard. The ventilation helps to keep the area between the head and the helmet cool which is especially useful in longer games. The visor may sometimes prevent you tilting your head, but other than that, it doesn't affect the helmet's comfort that much.
Intended User
The helmet is used mainly for professional games, meaning it is intended for use by professional cricket players - adult men and women. Wearing one to a semi-professional game is fine so long as the helmet is the right fit.
C. Final Comparison
Both helmets are meant to be used in professional leagues, and both helmets are made with high-quality materials. The only difference between the two is their price: one is more affordable than the other. If you can afford to buy the Shrey brand of helmet, do so as it has a better safety rating compared to the DSC brand of a helmet (but this does not mean that the DSC helmet is not safe to use).