Top Cricket Shoes Reviewed
Top Cricket Shoes Reviewed
Find out which brand of cricket shoes fit your taste, price range, and have unique features (if any). Check Betwala's reviews of the top cricket shoe brands.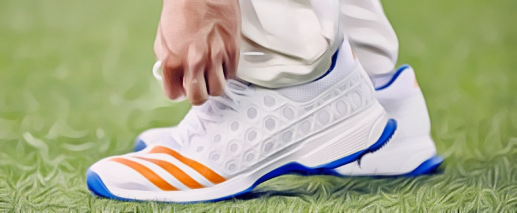 Shoes serve serve many purposes but have one goal: protect the wearer's feet. Just think about it: hiking shoes, football shoes, basketball shoes, combat shoes, cricket shoes - the list can go on and on. However, shoes in sports not only protect the wearer's feet but also aid the athlete in his performance.
Cricket shoes in general have cleats that help them dig into the dirt and grass that they play on. They are also light so that the athletes can easily run from wicket to wicket as well as chase balls before they get to the boundary.
There are plenty of criteria that should be taken into account when buying cricket shoes, but for this review, the following criteria will be taken into account: price, materials, style, traction, unique features (if any), and comfort.
Price, as with anything else, is the most important criterion when looking at item reviews. They will dictate whether you will read on and decide whether to buy the item or not or just stop reading the review (or even stop considering buying the item) altogether.
Materials are also important since they give you an idea of the shoe's strength, durability, weight, and flexibility.
Style can be considered as a minor criterion since it is almost personal preference that dictates this.
Traction is also important for cricket shoes because it tells you how good the shoe can perform in given environments, how well the shoe reacts to sudden shifts in movement, and how deep the cleats are able to 'dig' into the dirt and grass.
Some shoes have unique features that help athletes perform better or help them focus on the game as opposed to tying shoelaces every now and then.
Comfort is one of the important factors that a shoe needs to have because otherwise, what good is the shoe if it doesn't feel comfortable. It can be made from gold and other fancy and expensive materials, but if the shoe isn't comfortable to be in, odds are it's not going to be bought.
CE vs CW Cricket Wicket
Two invaluable wickets that are definitely worth their price. A. CW Professional Cricket Match Wicket Set
Online Casino Table Games
Learn how different table games you can find in online casinos work. Find out how you can play them and where yo...
DSC vs KD Cricket Helmet
Two fairly inexpensive cricket helmets best used for the nest and practice matches. A. KD Cricket Helmet Stainl...
SG vs Spartan Cricket Shoes
Two high-end shoes made from the best materials but cost very differently. A. SG Ex-Treme Cricket Studs with Me...